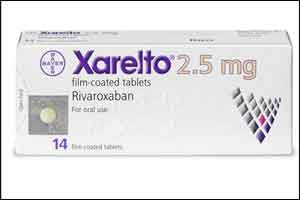 In three studies presented during the 59th American Society of Hematology (ASH) Annual Meeting and Exposition in Atlanta, researchers report remarkable benefits from new, more easily administered therapies for bleeding and clotting disorders.
Two studies, one involving a novel drug and the other a gene therapy, could significantly improve the lives of people with the bleeding disorder hemophilia A, the most common form of the disease. For children with hemophilia A who develop resistance to the standard, but burdensome, intravenous therapy, subcutaneous administration of the investigational drug emicizumab effectively prevents bleeds. For adults with hemophilia A, a single gene therapy treatment provides durable improvement in clotting factor levels and long-term protection from bleeds.
A third study shows that the direct oral anti-coagulant (DOAC) rivaroxaban appears to safely reduce the risk of recurrent, dangerous blood clots in patients with cancer, even during chemotherapy.
"These studies really push the envelope in terms of simply-administered therapeutic options available to children and adults with hemophilia, as well as cancer patients with a history of blood clots," said Margaret Ragni, MD, MPH, press briefing moderator, professor of medicine at the University of Pittsburgh. "The results are exciting and offer the potential to change the standard of care."
This press conference will take place on Saturday, December 9, at 7:30 a.m. EST in Room A315 of the Georgia World Congress Center.
Emicizumab Highly Effective in Children with Hemophilia A with Inhibitors; Shows Strong Safety Profile
HAVEN 2 Updated Analysis: Multicenter, Open-Label, Phase 3 Study to Evaluate Efficacy, Safety, and Pharmacokinetics of Subcutaneous Administration of Emicizumab Prophylaxis in Pediatric Patients with Hemophilia A with Inhibitors [85]
In a Phase III trial of the hemophilia A drug emicizumab in children, 95 percent of patients experienced no bleeding events requiring treatment, suggesting the drug is highly effective at preventing the bleeding associated with hemophilia A. The findings also reveal a strong safety profile, with no serious adverse events related to the drug, according to the research team.
People with hemophilia A produce extremely low levels of the blood clotting protein factor VIII (FVIII). Without treatment, patients can suffer debilitating bleeding events multiple times per month, especially in the joints, causing significant pain in the short term and joint disease in the long term. The best available treatment for preventing bleeds involves frequent intravenous infusions of FVIII.
In some patients, these infusions do not work because the body develops antibodies, or inhibitors, that bind to the standard replacement therapy and render it ineffective. Emicizumab is designed to fill the treatment gap for these patients. The drug functions like FVIII by enabling blood to clot, but it has a different structure, making it unrecognizable to FVIII antibodies.
Researchers enrolled 60 patients age one to 12 years who had an inhibitor that prevented them from being effectively treated with FVIII infusions. Caregivers were taught how to administer emicizumab at home through a weekly subcutaneous (under the skin) injection. Over a median of nine weeks follow-up (with a range of 1 to 41 weeks), only three patients experienced bleeding events requiring treatment; all three were safely treated with recombinant factor VIIa (rFVIIa), a standard of care for people with hemophilia A and an inhibitor. Known as a bypassing agent, rFVIIa encourages coagulation without the need for FVIII replacement therapy, providing a therapeutic workaround for those who have developed FVIII inhibitors.
"Before this drug, we didn't have very effective ways to prevent joint bleeding in these patients," said lead study author Guy Young, MD, director of the hemostasis and thrombosis program at Children's Hospital Los Angeles and University of Southern California. "This drug has demonstrated a very high level of efficacy at preventing those bleeding events. It's been life-changing for the children I've treated."
Previous emicizumab trials conducted in adults and adolescents have raised safety concerns over adverse events that occurred after patients experienced bleeding while on the drug, which Dr. Young attributed to the concomitant use of a bypassing agent on top of emicizumab. He said such problems had not occurred in this trial, likely in large part due to the fact that the patients on this trial rarely used bypassing agents since they had so few bleeding events.
The researchers will continue to follow enrolled patients for at least 12 months. Dr. Young says the trial's findings could change the standard of care for children who have hemophilia A with inhibitors. Another trial is underway to determine the safety and efficacy of emicizumab in patients who do not have the inhibitors.