New Strategy to fight Antibiotic resistance-Combine four or five antibiotics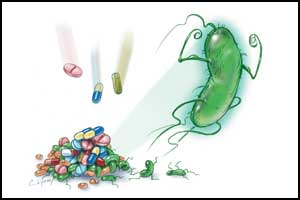 According to a new study combining four or five antibiotics might help fight the growing problem of antibiotic resistance.
Usually mixing multiple drugs together has less impact rather than more as they can cancel each other out, or provide very little extra benefit in fighting infection. But scientists from the University of California in Los Angeles (UCLA) have used a methodical testing system to identify these thousands of new mixes, combining four or five drugs at a time which may be helpful in fighting against antibiotic-resistant bugs.
"There is a tradition of using just one drug, maybe two," said co-senior author Pamela Yeh, an assistant professor of ecology and evolutionary biology.
"We're offering an alternative that looks very promising. We shouldn't limit ourselves to just single drugs or two-drug combinations in our medical toolbox. We expect several of these combinations, or more, will work much better than existing antibiotics," Yeh said in a university news release.
The researchers identified nearly 1,700 four-antibiotic combinations and more than 6,400 five-antibiotic combinations that are more effective than expected at stopping E. coli bacteria by working with eight antibiotics.
While these results are promising, the antibiotic combinations have only been tested in a laboratory. It will be years before they might be evaluated as possible treatments, Yeh noted.
Still, the news was welcomed by experts concerned that antibiotics are losing their power.
Yeh's colleague, study senior co-author Van Savage, voiced surprise. "I was blown away by how many effective combinations there are as we increased the number of drugs," said Savage, a professor of ecology and evolutionary biology and of biomathematics.
"People may think they know how drug combinations will interact, but they really don't," he added.
"It's like attacking a castle or fortress. Combining different methods of attacking may be more effective than just a single approach," Savage said.
The UCLA researchers are in process of creating an open-access software based on their work so that other scientists can do their own research on these antibiotic combinations and contribute to the important cause of fight against Antibiotic resistance.
For further reference log on to :
https://www.nature.com/articles/s41540-018-0069-9
Source : With inputs from npj