New simplified combo inhaler reduces asthma attacks by one third: Lancet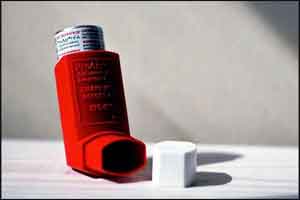 New simplified combo inhaler reduces asthma attacks, study shows. Researchers have found a way of treating asthma that reduces the chance of an attack by one third.
Currently, Asthma sufferers usually use two inhalers - a steroid-containing preventer and a separate reliever - but this independent year-long trial by the Medical Research Institute, published in the Lancet, combined them into one.
The year-long trial, involving almost 900 New Zealand adults, found the risk of severe asthma attacks was reduced by 31 per cent in those who used the combined preventor-reliever. The study makes a case for simplified asthma treatment and backs up previous research, the authors say.
The study involved 890 mild to moderate asthma sufferers with half using the merged inhaler when symptoms were present and the other half a control group using separate inhalers.Upper Hutt carpenter Kelly Gee (Ngāti Waikato, Ngāti Maniapoto) is one of about 830,000 asthma sufferers in New Zealand and said the new treatment had reduced his asthma attacks from three or four a week to just five a year.
"This trial has confirmed our study published earlier this year in the New England Journal of Medicine, showing that when patients take just a single combined preventer-reliever inhaler whenever needed to relieve symptoms, they do a lot better than the previously recommended treatment of a regular preventer inhaler taken twice daily plus a reliever inhaler whenever needed" says Professor Beasley. "The greater benefit was achieved despite exposure to about half the amount of inhaled corticosteroid preventer medication because the inhaled corticosteroid works better when taken as needed in mild asthma".
"This novel approach simplifies treatment as it doesn't require patients to take a preventer inhaler twice daily even when they have no symptoms" he says. "It also addresses two key problems in asthma management; the reluctance of doctors to prescribe regular preventer inhaler therapy and the reluctance of patients to use it when they feel well. With a combined preventer-reliever inhaler, patients have more personal and immediate control over their asthma management. This takes advantage of the patient's natural behaviour to take a reliever only when they are experiencing symptoms."
Otago University researcher and Dunedin Hospital Respiratory Specialist Dr Ben Brockway believes this study is a major step forward for asthma management internationally.
Study co-author Richard Beasley said the results could change asthma treatment world-wide."If you put the preventer in with the reliever when a patient is getting worse they take more reliever because their asthma is worse - but that will automatically mean they will take more of the preventer drug," Dr Beasley said."So at times when the asthma is more unstable and becoming a severe attack and they end up taking a lot of their reliever they will then get a lot of their preventer," he said.
Dr Beasley said nine out of ten patients preferred this simplified, more effective option.
The research adds weight to the team's findings from earlier this year that also showed a combined dose as needed was more effective than separate inhaler doses.
Asthma New Zealand says a merged inhaler could be the game-changer suffers need to reduce attacks.