First non antibiotic treatment of Sepsis- Step forward against Antimicrobial resistance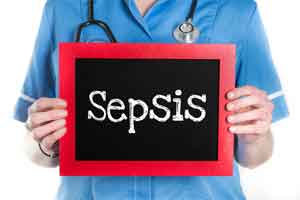 Ireland: The researchers at Royal College of Surgeons in Ireland (RCSI), Dublin, Ireland have discovered first non-antibiotic treatment of Sepsis. The drug can treat sepsis before it reaches the major organs and becomes fatal and will be a step forward against Antimicrobial resistance.
Antimicrobial resistance (AMR) is the ability of a microorganism (like bacteria, viruses, and some parasites) to stop an antimicrobial (such as antibiotics, antivirals and antimalarials) from working against it. As a result, standard treatments become ineffective, infections persist and may spread to others.
In an era where antimicrobial resistance is a big problem due to over usage of antibiotics, it is a welcome finding especially in cases of finding the first non-antibiotic treatment of sepsis.
The drug called Cilengitide, that goes by the brand name InnovoSep has been shown to inhibit bacterial binding to the vascular endothelium thereby inhibiting the main mechanism by which endothelial cell injury in sepsis leads to septic shock and organ failure. This technology represents a first-in-class, non-antibiotic approach to targeting bacteremia and severe bloodstream infections.
Sepsis, that affects an estimated 20 million people per year with a mortality rate of up to 50%, is a life-threatening condition. It occurs when an existing infection — such as one that develops in a cut, a respiratory infection, or a urinary tract infection — triggers an immune response that affects the body's tissues and major organs. Sepsis constitutes a medical emergency because, if a person does not receive treatment, it can lead to death. Most commonly, the condition is caused by Staphylococcus aureus and Escherichia coli.
In the research led by Steve Kerrigan, an associate professor in pharmacology at the RCSI, the researchers have tested cilengitide in a preclinical trial. The findings were presented at the RCSI Research Day 2019.
"Sepsis occurs when an infection gets into the bloodstream and our own body's defense system spins out of control trying to fight the infection, which results in multiple organ failure, if untreated," explains Kerrigan the need for such a drug.
"There is only a short window of opportunity for treatment of sepsis, with the early administration of antibiotics and fluid. However, in many cases, antibiotics are not effective, due to drug resistance or delays in identifying the type of bacteria that has caused the infection," he continues. "Therefore, there is a need for a nonantibiotic therapy that can be used at all stages of infection against all bacterial causes of sepsis," Prof. Kerrigan explains.
In the preclinical trial, the researchers successfully used InnovoSep to inhibit S. aureus and E. coli from binding to human endothelial cells, both in vivo and in vitro. Endothelial cells are "the first barrier between the blood and the extravascular space."
InnovoSep stopped the infection from advancing to septic shock and organ failure by preventing damage to endothelial cells.
Applications of Cilengitide:


Treatment of patients diagnosed with sepsis


Prophylactic use for patients with severe infection to prevent progression to sepsis.


Source : With inputs from RCSI