New position statement brings hope for Multiple sclerosis (MS) patients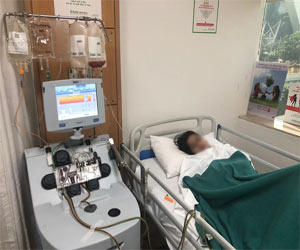 "Autologous hematopoietic cell transplantation (AHCT) brings a new ray of hope for Multiple sclerosis (MS) patients in halting the disease progress," Dr Rahul Bhargava
New Delhi: A new position statement released by the American Society for Blood and Marrow Transplantation (ASBMT) has brought a new ray of hope for the patients of multiple sclerosis (MS) -- a chronic, neurodegenerative disease that mainly affects the young population and has no definitive cure until now. The position reinforces for the use of Stem Cell Transplantation in MS
Multiple sclerosis (MS) is a chronic, immune-mediated, demyelinating and degenerative disease of the central nervous system that commonly affects the young population aged from 20-40 years of age. Although there are many treatment options available for the disease, there is no definitive cure until now due to the highly active relapsing nature of the disease and high risk of disability in some patients.
The statement, published in the journal Biology of Blood and Marrow Transplantation, reinforces autologous hematopoietic cell transplantation (AHCT) being an efficacious and safe treatment for active relapsing forms of MS to prevent clinical relapses, MRI lesion activity, and disability worsening, and to reverse disability, without unexpected adverse events.
Based on the available evidence, the ASBMT Task Force recommends revising the recommended indication for AHCT in MS to "standard of care, clinical evidence available", for patients with relapsing forms of MS (RRMS or progressive MS with superimposed activity) who have prognostic factors that indicate a high risk of future disability, including ongoing clinical relapses or MRI lesion activity despite treatment with available disease-modifying therapies (DMTs), especially if disease activity continues despite treatment with high efficacy DMTs and/or there is worsening disability.
Currently, over a dozen DMTs have regulatory approval in the United States and worldwide for treatment of relapsing MS, with varying mechanisms of action, routes of administration, and efficacy. However, despite therapy, a high proportion of patients fail to achieve no evidence of disease activity NEDA. This recent position statement is an important development in the field of MS treatment as Recent treatment guidelines from the American Academy of Neurology (AAN) and European Academy of Neurology (EAN) / European Committee on Treatment and Research in MS (ECTRIMS) do not address management of such treatment-refractory patients with poor prognosis.
High Relevance for India
MS is being increasingly diagnosed in India particularly with the growing ease and affordable availability of magnetic resonance imaging (MRI). The clinical features and course are largely similar to those seen in the West. Several of the disease-modifying agents, not all, are now available in India. Their use, however, has been limited in view of the high cost.
In this light the presence and the endorsement of Stem cell Transplantation comes as a welcome development in the treatment of the disease.
"Autologous hematopoietic cell transplantation (AHCT) brings a new ray of hope for MS patients in halting the disease progress," Dr. Rahul Bhargava, a leading haematologist in India, and Director of Haematology, Paediatric Haematology Oncology & Bone Marrow Transplant in Fortis Gurgaon, told Medical Dialogues. He has been using stem cell transplantation as a modality for this indication for about 2.5 years.
"We have seen that with the use of AHCT, patients have indeed moved to remission with no fresh lesions developing for longer periods of time," he added
For further reference follow the link:
https://doi.org/10.1016/j.bbmt.2019.02.014