New Non invasive System to Monitor Motility GI Disorders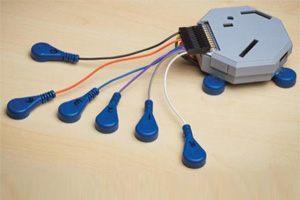 A team of researchers has developed a wearable external sensor that tracks electrical activity in the gastrointestinal tract over 24 hours. The device, which measures gastric myoelectric activity, links to a smartphone app to collect data and could be used to monitor GI processes such as delayed gastric emptying, even during sleep. In all a very useful Non-invasive System to Monitor Motility GI Disorders.
Due to the increasing prevalence of functional and motility gastrointestinal (GI) disorders and lack of non-invasive measures, the electrogastrogram (EGG), a noninvasive means can be effectively used to continuously monitor gastric electrical activity to inform diagnoses over broader populations.
However, it is rarely used due to technical issues like inconsistent results from single-channel measurements and signal artifacts that make interpretation difficult and limit prolonged monitoring. Researchers have overcome these limitations with a wearable multi-channel system and artifact removal signal processing methods which can be used for ambulatory monitoring, which reveals myoelectric dynamics in response to meals akin to gastric emptying patterns and circadian-related oscillations.
The gold standard for monitoring biomechanical activity in the GI tract is manometry. Although it is accurate, manometry is considered invasive because it involves the threading of sensors into the body.
The new device consists of a 3-D–printed, the battery-powered transceiver with 10 electrodes (left). Because the electrical activity in the gut is roughly one-tenth that of the heart, the researchers had to develop a computer algorithm to ignore background noise and properly analyze the signals—a problem that has complicated previous efforts at electrogastrography (EGG).
The device will measure stomach activity in response to a meal, revealing a time course of dynamics that matches clinically observed stomach emptying times which was not previously possible. The UC San Diego group reported their findings with the sensor in 11 children undergoing manometry at Rady Children's Hospital-San Diego. (The study also included one adult.) which was published in the journal Scientific Reports. According to the authors, the device provided robust and reliable data.
The new device comes with superior advantages:


The ambulatory EGG monitoring is a less expensive alternative to in-clinic monitoring, which involves the use of clinical staff and facilities.


Children can be monitored at home, which reduces stress on both children and their parents.


Since it is noninvasive, repeated recordings can be easily performed to objectively guide treatment.


Wearable monitoring systems can be disseminated to patients living in distant locations, allowing for remote assessment and treatment


Wearable EGG technology has generated substantial gains in the detection of events, enabling faster and more accurate diagnoses and interventions of patients.


"The [sensor] is the best way to evaluate children with motility and functional GI disorders," said Hayat Mousa, MD, the director of the Neurogastroenterology and Motility Center at Rady, who helped conduct the study, in a statement. "It provides information without the need for sedation and it offers the flexibility to monitor kids while they continue their daily activities."
Source : With inputs from the journal Scientific reports