New Nasal device for managing Obesity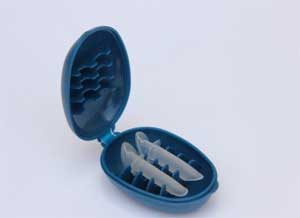 Daily use of a novel nasal device to reduce smelling ability can induce weight loss and changes to dietary preferences in people aged 50 years and below, says study. Those who used the device every day for five to 12 hours lost an average of 8.3kg in 12 weeks, compared with 4.3kg in the placebo group.
The soft silicone contraption is inserted inside the nostrils, enabling users to continue breathing but causing air to bypass the olfactory. The wearable nasal insert is planned to be commercially available within few months and will be marketed under the name NozNoz™ as a non-medical wellness device.
Food odors increase our dietary intake and preferences while the loss of smell may reduce our diet. Olfaction declines as we age, typically beginning around the age of 50 but overweight and obese people have also been found to have a greater sensitivity to food smells and higher stimulation of their appetite when exposed to food odors which leads them to eat more.
Dr. Dror Dicker and his associates conducted a study to determine if a soft silicone nasal insert could be used by obese subjects to reduce their ability to smell, with a resulting reduction in body weight, a change in dietary preferences, and an improvement in metabolic dysfunction.
65 obese adults were included in the trial which was divided into two groups, device group (37) and control group (28). The participants in the study group wore the novel nasal insert daily and those in the control group inserted "placebo" drops of saline into each nostril daily. All participants were put on a diet with a 500 calorie per day deficit from their regular diet, and follow-up visits occurred every two weeks.
Measurements of each subject's weight, olfactory sensitivity, as well as glucose, insulin, and lipid levels were made at the start and end of the study period.
The study found that the nasal device caused a significant drop in olfactory sensitivity, while the placebo saline drops had no effect. Among participants aged below 50 years, weight loss in the nasal device group was significantly greater than in the control group (7.7% of body weight in device vs. 4.2% in control). In addition, dietary preferences for sugar, artificial sweeteners, and sweet beverages were significantly reduced in device relatively to control for the whole population and primarily for those age under50. Furthermore, Insulin levels for the whole population reduced significantly in device group from beginning to end of the trial, while no significant difference occurred in control.
The study concluded that novel smell-reducing self-administered nasal device caused weight loss in subjects aged under 50 years and reduced dietary preference for sweet food for all participants.
The research was presented in May this year at European Congress on Obesity (ECO) in Vienna, Austria.
Source : press release