New MRI Method may detect cancer without biopsy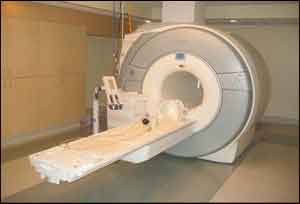 In a major technological breakthrough, scientists have developed a new MRI method that can identify the composition and aggressiveness of a tumor without the need to perform a biopsy. This will overcome the long and painful process of finding out whether a tumor is malignant or benign. The study was published in the Journal of Urology.
The new MRI method is called multiparametric MRI or mpMRI. It involves a standardized diagnostic algorithm that evaluates several specific MRI images of a targeted renal mass. Several factors across different MRI images including the presence of microscopic fat in the tumor and the signal intensity in T2-weighted imaging are taken into account in the new technique.
"Using mpMRI, multiple types of images can be obtained from the renal mass and each one tells us something about the tissue," says Ivan Pedrosa, another co-author on the study. This is not a replacement for all biopsies but serves as an additional investigative step that will significantly decrease the number of unnecessary biopsies.
The researchers retrospectively reviewed the records of patients with cT1a masses who underwent magnetic resonance imaging and partial or radical nephrectomy from December 2011 to July 2015.
They identified a total of 110 patients with 121 masses. Mean tumor size was 2.4 cm and 50% of the lesions were a clear cell. Defining clear cell as scores of 4 or greater demonstrated 78% sensitivity and 80% specificity while scores of 3 or greater showed 95% sensitivity and 58% specificity.
The current method proposed by the research suggests physicians, aided by information supplied by the algorithm, can identify the most common malignant form of kidney tumor with a confidence of 80 percent. However, there is still a lot of work that needs to be done before the new MRI method can be rolled out all across the world, but the researchers are confident in their work and believe it is an excellent technique to add to the diagnostic toolkit.
"Biopsies are not entirely free of pain and discomfort," explains Jeffrey Cadeddu, the co-author on the new study. "Some patients, in fact, choose to observe cancer simply to avoid the pain of the biopsy.
The study concluded that a clear cell likelihood score used with magnetic resonance imaging can reasonably identify clear cell histology in small renal masses and may decrease the number of diagnostic renal mass biopsies.
Source : With inputs from Journal of Urology