New MRI device with built-in irradiation for Tumour irradiation
In major breakthrough researchers at UMC Utrecht developed an MRI device with built-in irradiation which may help the doctors irradiate a tumor more accurately as the tumor tissue can be mapped live on the MRI scans. It took twenty years to develop this device and the researchers successfully finished a complete radiation programme on the first cancer patients.
For a long time, it was considered technically impossible to be able to see what you're doing while irradiating a tumor. Researchers from the University Medical Center Utrecht together with Philips Medical Systems and Elekta worked on an MRI scanner in which the irradiator is incorporated. In this way, the cancer cells can be irradiated much more accurately and leave the healthy tissue intact. This causes less damage to the healthy tissue in the vicinity of the tumor, which is now inevitably also irradiated. An additional advantage is that the patient has to undergo fewer radiation treatments.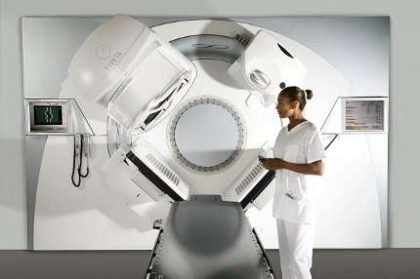 Credit: Netherlands Organisation for Scientific Research (NWO)
Read Also:Yes, Radiation from mobile phones adversely impacts memory

The development of the technology has lasted twenty years, and now the first cancer patients have gone through a complete radiation trajectory. An important part of the development of the combi-technique was a research project that was funded by Technology Foundation STW, now NWO Domain Applied and Engineering Sciences (AES). The project, called A hybrid MRI radiotherapy system, started in 2007. Researchers worked together with Philips and Elekta, who develop MRI systems and radiation equipment.
After these successful projects success, the development of the combi-technique continues. This is realized in various projects, including two AES projects that have been granted within the HTSM programme. Both AES projects should lead to more knowledge and dexterity in following the movements organs make during the irradiation. This should make it possible to irradiate even more accurately.
Great interest has been shown in the technology worldwide. In the United Kingdom and the United States, among others, there are several hospitals that are looking forward to working with the technology.
For reference log on to
https://www.nwo.nl/en/news-and-events/news/2018/09/new-radiation-technology-raises-a-stir.html
Source : With inputs from NWO