................................ Advertisement ................................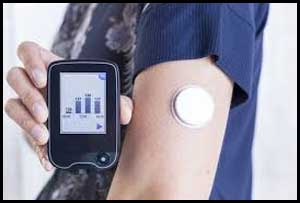 A panel of expert endocrinologists/diabetologists has released a consensus guideline and new recommendations on continuous glucose monitoring in India which has appeared in the Journal of Diabetology.
Self-monitoring of blood glucose (SMBG) is a simple and practical tool for maintaining good glycemic control. Its use in India is very limited despite the fact that it is widely practised in other countries. Even when used, it is not carried out is a structured manner and without awareness about the purpose of SMBG and the correct process and schedule to be followed. These recommendations will fulfil the unmet need for country-specific SMBG recommendations.
India ranks second in the world, closely following China, with almost 73 million Indians living with diabetes. With a projected prevalence of over 134 million, India is estimated to surpass China by the year 2045.
................................ Advertisement ................................
Blood glucose monitoring (BGM) approaches such as Hb1Ac assessment, self-monitored blood glucose (SMBG) and continuous glucose monitoring (CGM) are essential to prevent long-term complications in diabetes. There is no consensus on the utility of CGM or guidance for uniform monitoring mechanism in India.
Diabetes India Task Force of experts took up the challenge to create Indian Clinical Guidelines for CGM, compliant with published International guidelines. Recommendations were made after referring data of global CGM studies in type 1 diabetes mellitus (T1DM) and type 2 diabetes mellitus (T2DM) including Indian study data, evidence and clinical experiences to provide the geographic-specific information on CGM for Indian population.
CGM recommended in the following patients and situations:
CGM helps patients with diabetes to understand blood glucose fluctuations caused by factors such as physical activity, diet, stress and hypoglycaemic treatment, thus imparting a healthy lifestyle and highest potential to assist with prandial insulin. It supports to increase treatment compliance and encourage more effective interactions between patient and physician.
Adults with T1DM: Patients with a history of severe hypoglycaemia or repeated hypoglycaemia, asymptomatic hypoglycaemia, and nocturnal hypoglycaemia, refractory hyperglycaemia especially fasting, large blood glucose excursions are benefited by this.

Spread awareness about hypoglycaemia and to assist in the correction of hyperglycaemia in patients, not at target.
Strongly recommended that user must know the CGM execution and real-time data interpretation. It must be used on a near‑daily basis to achieve and maintain HbA1c targets effectively.

Children with T1DM: similar as in adult T1DM. CGM use in children is lower than in adults. Therefore, more in-depth training and more frequent follow-up are required and strongly recommended to allow children to adopt the technology more successfully.
Adults with T2DM who are receiving insulin therapy including multiple daily injections or continuous subcutaneous insulin infusion may also benefit from CGM, especially patients who experience hypoglycaemia while struggling to maintain their HbA1c <7%.
Patients with T2DM and on intensive insulin regimens or insulin/sulphonylureas, glinides are strongly recommended for CGM.
In patients with T2DM and at low risk for hypoglycaemia, CGM is recommended based on treating physician's decision.
Gestational diabetes: CGM during pregnancy can be a useful teaching tool, to assess and evaluate glucose pattern and for perfect insulin dosing. In these patients, CGM should be accompanied with blood glucose monitoring (BGM), primarily to monitor nocturnal hypoglycaemia or hyperglycaemia and post-prandial hyperglycaemia.
Diabetes gastroparesis, fulminant patients with T1DM and other particular types of patients with diabetes: CGM can be used to understand the characteristics and fluctuation patterns of their blood glucose profile. It is also useful in other endocrine and metabolic disorders including insulinoma.
This document provides a comprehensive review of the current literature on SMBG and presents the recommendations made by the expert panel. Availability of continuous glucose data for diabetes patient with low‑ and high‑glucose alerts helps to personalise the diabetic treatment and helps to improve diabetes care outcome.
................................ Advertisement ................................
For further reference log on to :
................................ Advertisement ................................
Chawla M, Saboo B, Jha S, Bhandari S, Kumar P, Kesavadev J, Munjal Y P, Viswanathan M, Unnikrishnan R, Katswar V, Arun N, Sosale B, Anjana R M, Hasnani D. Consensus and Recommendations on Continuous Glucose Monitoring. J Diabetol. 2019;10:4-14. doi: 10.4103/jod.jod_45_18.
Author Details
Hina Zahid Joined Medical Dialogue in 2017 with a passion to work as a Reporter. She coordinates with various national and international journals and association and covers all the stories related to Medical guidelines, Medical Journals, rare medical surgeries as well as all the updates in the medical field. Email: hina@medicaldialogues.in. Contact no. 011-43720751
To know about our editorial team click here
................................ Advertisement ................................