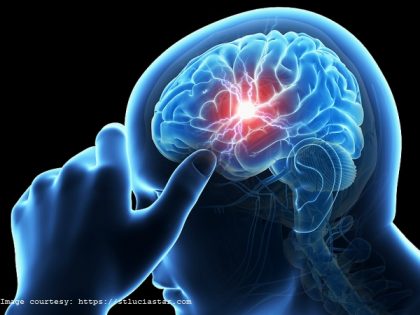 A new study, published in the Journal of NeuroInterventional Surgery (BMJ Journal) found that a new stroke imaging technology could reduce delays in care by up to 60 minutes, giving the patients a better chance to recover completely.
In recent years, mechanical thrombectomy has been used for successful treatment of large vessel occlusions. Reduction in the time between onset of symptoms and revascularization has the potential for significantly improving patients' outcome. Intrahospital transfer from CT to the angiosuite can result in the delay of revascularization therapy by up to 60 min. A recent cone-beam CT based stroke imaging software for the angiosuite has been developed in an attempt to create a 'one-stop-shop stroke suite' in angio.
The purpose of this study, conducted by Nicole Cancelliere, an interventional clinical research technologist at Toronto Western Hospital, and colleagues, was to evaluate this stroke imaging acquired in the angiosuite and compare it with standard CT.
Read Also: Imaging helps in safe alteplase Rx in Asymptomatic stroke patients
The study, presented at the Society of NeuroInterventional Surgery's (SNIS) 15th Annual Meeting, demonstrated that recent advances in imaging software in the angiosuite give neurointerventionalists the essential details required to diagnose a patient with large vessel occlusion (LVO) for an endovascular thrombectomy (EVT).
This suggests that in the future, stroke patients can bypass the CT scan or emergency department and go directly to the angiosuite for imaging and proper care.
For the study, the investigators analyzed the patients who received endovascular mechanical thrombectomy (EVT) treatment that performed standard CT and CT perfusion (CTP) imaging within 90 min before arrival to the angiosuite.
Key Findings:

 XperCT stroke imaging software in the angiosuite sufficiently provides the necessary diagnostic information required for treatment decision-making, including detection of ischemic core (ASPECTS score), collaterals (good, moderate or bad) and vessel patency (occluded vessel and baseline TIMI).
Core definition compared to baseline CT, CT perfusion and follow-up CT demonstrated good predictability of the final infarct in cases with complete revascularization in less than 60 min after baseline imaging.
"By using this technology in the angiosuite, hospitals can reduce intra-facility transfer delays and hence the time of stroke symptom onset to treatment, which will significantly reduce brain damage and improve outcomes for patients," Cancelliere said.
 The imaging allows accurate detection of hemorrhage, occlusion site, ischemic core, and tissue at risk, suggesting that baseline imaging can be performed in the angiosuite using cone beam imaging. The lead PI on this study. "By reducing intra-facility transfer times, patients can receive EVT treatment sooner, which can significantly impact patient outcomes," added Professor Vitor Mendes Pereira.
"Currently, stroke patients must first visit the CT department for imaging to confirm LVO before going to the angiography suite for EVT treatment. Preliminary results from analysis of this cone-beam CT assessment suggests that in the future eligible patients can bypass CT and go straight to the angiosuite for imaging and treatment," concluded the authors.
For further information log on to http://dx.doi.org/10.1136/neurintsurg-2018-SNIS.5