New imaging technique captures molecular detail to detect Prostrate Cancer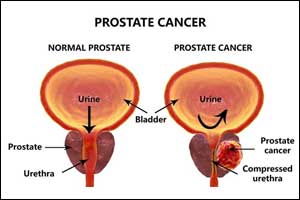 Scientists at Stanford University have used a Transrectal Ultrasound and Photoacoustic (TRUSPA) technology to Image prostrate for detection of Prostate Cancer, according to a study published in the Science Translational Medicine.
The device TRUSPA uses a miniaturized capacitive micromachined ultrasonic transducer array for simultaneous imaging of anatomical and molecular optical contrasts [intrinsic: hemoglobin; extrinsic: intravenous indocyanine green (ICG)] of the human prostate.
A Transrectal Ultrasound (TRUS) is often used to help diagnose prostate cancer if the prostate-specific antigen (PSA) level is high, the doctor feels an abnormal area during a digital rectal exam (DRE) or a man has certain symptoms, such as trouble urinating. A transrectal ultrasound (TRUS) may also be called prostate sonogram or endorectal ultrasound. It is used to look at the prostate and tissues around it. An ultrasound transducer (also called a probe) sends sound waves through the wall of the rectum and into the prostate and surrounding tissue. A computer analyzes the wave patterns (called echoes) as they bounce off the organs and converts them into an image that doctors view on a video screen.
Photoacoustic imaging (optoacoustic imaging) is a biomedical imaging modality based on the photoacoustic effect. In photoacoustic imaging, non-ionizing laser pulses are delivered into biological tissues (when radiofrequency pulses are used, the technology is referred to as thermoacoustic imaging). Photoacoustic imaging (PAI) provides functional and molecular information at ultrasonic resolution based on optical absorption.
The authors of the study have combined both the technologies and developed a device called TUSPA that has both the potentials. Using this device, hemoglobin absorption of the patients were mapped vascularity of the prostate and surroundings, whereas ICG absorption enhanced the intraprostatic photoacoustic contrast.
"Future work using the TRUSPA device for biomarker-specific molecular imaging may enable a fundamentally new approach to prostate cancer diagnosis, prognostication, and therapeutic monitoring." concluded the authors.
For reference, click on the link
DOI: 10.1126/scitranslmed.aav2169