New Guidelines on Insulin Therapy in Diabetes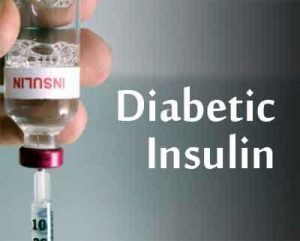 The importance of glycemic control in preventing and delaying the progression of diabetes complications is well established.In the last decade, considerable efforts have been put in to introduce new classes of glucose-lowering medications and formulating guidelines for the use of these therapies to optimize glycemic control.However, insulin therapy remains the most widely relied upon as the mainstay therapy for diabetes.The East African Diabetes Study Group (EADSG) is an organization committed to reducing the burden of diabetes in East Africa and beyond, by providing healthcare professionals with scientific information and educational initiatives designed to translate research into effective clinical practice.It has released new Guidelines on Insulin Therapy in Diabetes which have been published in Journal Diabetes Therapy.
Major Recommendations -


A diagnosis of diabetes or hyperglycemia should be confirmed prior to ordering, dispensing, or administering insulin (A).


Insulin is the primary treatment in all patients with type 1 diabetes mellitus (T1DM) (A).


Typically, patients with T1DM will require initiation with multiple daily injections at the time of diagnosis. This is usually short-acting insulin or rapid-acting insulin analogue given 0 to 15 min before meals together with one or more daily separate injections of intermediate or long-acting insulin.


Two or three premixed insulin injections per day may be used (A).


The target glycated hemoglobin A1c (HbA1c) for all children with T1DM, including preschool children, is recommended to be < 7.5% (< 58 mmol/mol). The target is chosen aiming at minimizing hyperglycemia, severe hypoglycemia, hypoglycemic unawareness, and reducing the likelihood of development of long-term complications (B).


For patients prone to glycemic variability, glycemic control is best evaluated by a combination of results with self-monitoring of blood glucose (SMBG) (B). Indications for exogenous insulin therapy in patients with type 2 diabetes mellitus (T2DM) include acute illness or surgery, pregnancy, glucose toxicity, contraindications to or failure to achieve goals with oral antidiabetic medications, and a need for flexible therapy (B).


In T2DM patients, with regards to achieving glycemic goals, insulin is considered alone or in combination with oral agents when HbA1c is ≥ 7.5% (≥ 58 mmol/mol); and is essential for treatment in those with HbA1c ≥ 10% (≥ 86 mmol/mol), when diet, physical activity, and other antihyperglycemic agents have been optimally used (B). The preferred method of insulin initiation in T2DM is to begin by adding a long-acting (basal) insulin or once-daily premixed/co-formulation insulin or twice-daily premixed insulin, alone or in combination with glucagon-like peptide-1 receptor agonist (GLP-1 RA) or in combination with other oral antidiabetic drugs (OADs) (B).


If the desired glucose targets are not met, rapid-acting or short-acting (bolus or prandial) insulin can be added at mealtime to control the expected postprandial raise in glucose. An insulin regimen should be adopted and individualized but should, to the extent possible, closely resemble a natural physiologic state and avoid, to the extent possible, wide fluctuating glucose levels (C).


Blood glucose monitoring is an integral part of effective insulin therapy and should not be omitted in the patient's care plan. Fasting plasma glucose (FPG) values should be used to titrate basal insulin, whereas both FPG and postprandial glucose (PPG) values should be used to titrate mealtime insulin (B).


Metformin combined with insulin is associated with decreased weight gain, lower insulin dose, and less hypoglycemia when compared with insulin alone (C).


Oral medications should not be abruptly discontinued when starting insulin therapy because of the risk of rebound hyperglycemia (D).


Analogue insulin is as effective as human insulin but is associated with less postprandial hyperglycemia and delayed hypoglycemia (B).


The shortest needles (currently the 4-mm pen and 6-mm syringe needles) are safe, effective, and less painful and should be the first-line choice in all patient categories; intramuscular (IM) injections should be avoided, especially with long-acting insulins, because severe hypoglycemia may result; lipohypertrophy is a frequent complication of therapy that distorts insulin absorption, and therefore, injections and infusions should not be given into these lesions and correct site rotation will help prevent them (A).


Many patients in East Africa reuse syringes for various reasons, including financial. This is not recommended by the manufacturer and there is an association between needle reuse and lipohypertrophy. However, patients who reuse needles should not be subjected to alarming claims of excessive morbidity from this practice (A).


Healthcare authorities and planners should be alerted to the risks associated with a syringe or pen needles 6 mm or longer in children (A).


For further reference log on to : https://doi.org/10.6084/m9.figshare.5887030
Source : With inputs Journal Diabetes Therapy