................................ Advertisement ................................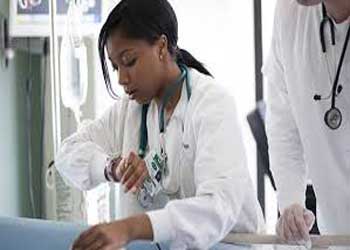 Comprehensive guidelines for Management of severe atopic dermatitis (AD) has been developed and released by a team of investigators from the University of Colorado College of Nursing at CU Anschutz Medical Campus and National Jewish Health.The clinical management review was recently published in The Journal of Allergy and Clinical Immunology: In Practice.
Patients with severe atopic dermatitis (AD) are reported to represent between 10% and 18% of all patients with AD. However, in this subgroup of patients, quality of life is significantly affected and patients may have a number of atopic and nonatopic comorbidities.
"The FDA approval of biologic medication for treating moderate-to-severe AD has transformed the therapeutic landscape highlighting the need for comprehensive and clear guidelines," said Noreen Nicol, PhD, RN, Associate Professor in the College of Nursing at CU Anschutz Medical Campus. "Without comprehensive guidelines that analyze national and international findings, we risk clinicians skipping crucial conventional steps, such as wet-wrap therapy, that need to be utilized prior to initiating biologics."
................................ Advertisement ................................
................................ Advertisement ................................
Atopic dermatitis affects up to 18 per cent of children as well as seven per cent of adults. As a chronic, relapsing disease, severe AD has a profound impact on the quality of life of patients and families. Recent studies reveal patients with severe cases report high itch frequency of up to 18 hours a day, sleep disturbance and borderline or abnormal quality of life scores.
Current guidelines for decision making about advancement to systemic therapy in severe AD are misunderstood or not used. Treatment has often been reactive with inappropriate use of systemic corticosteroids and unapproved systemic immunosuppressants – drugs that suppress or reduce, the strength of the body's immune response. Additionally, international guidelines for treatment differ widely among countries.
In their clinical review, the researchers incorporate national and international guidelines to deliver a comprehensive algorithm to guide clinicians in treating AD patients, as seen in the chart.
................................ Advertisement ................................
The steps include:
Making a proper diagnosis and defining severity of AD
Addressing the basics of AD care:

Appropriate skin hydration and use of moisturizers and topical medications
Identifying irritants and allergens
Treating bacterial, viral or fungal infections
Treating psychosocial aspects
Developing an action plan

Consultations with an AD specialist
Considering acute management with wet-wrap therapy
Considering hospitalization, treatment with the systemic biologic dupilumab and phototherapy
Key Recommendations are-
1.Participate in shared decision making with the patient and/or caregiver
Spend time listening to the patient and/or caregiver
Understand the patient's goals and expectations (less itching, clearer skin, better sleep, other quality-of-life issues)
Clarify current medications and which ones are succeeding or failing
Give treatment options explaining the risks and benefits of these treatments
Consider all of the patient's socioeconomic factors and ability to adhere with treatment recommendations (insurance, affordability, reimbursement, patient's daily schedule, and work/school/family obligations)
2.Explain the nature of the disease
Realize that deterioration in previously stable AD may result from secondary bacterial or viral infection, development of contact allergy, poor understanding or adherence to recommended treatment
3.Clarify the severity of the patient's AD
Explain how much body surface area is involved—more than 10% of the body is considered moderate-to-severe AD
4. Work to find the right treatment plan and individualize for the patient to promote adherence to an agreed plan
Explain the role of proper skin hydration and moisturizers as daily care regardless of other treatments
Prescribe, as appropriate, TCSs and TCIs after taking into account the patient's age, site to be treated, extent/severity of disease, be sure to prescribe adequate amounts
Clarify the patient's vehicle preference for moisturizers and topicals
Demonstrate how to apply topical agents
Address steroid phobia or underuse if appropriate
Provide written recommendations regarding skin care including bathing and medicines including prescription and over-the-counter products including WWT
 Consider use of biologics or phototherapy if failing conventional topical treatments, as appropriate
Consider use of other systemic therapies if failing other treatments
Prescribe, as appropriate, oral sedating antihistamines, topical and/or oral antimicrobials
5.Provide patient education materials and additional support measures
Give patient education materials that support the specific messages and recommendations you are providing—not all do!
Consider structured educational interventions (eczema school, online programs, or patient support and advocacy groups)
Recommend environmental measures to avoid skin irritants and proven allergens or triggers
Recommend psychosocial support
"Life with severe atopic dermatitis can be incredibly difficult for our patients and their families, and it can be quite challenging to care for. It's important to let our patients, caregivers, and healthcare providers know that we have entered a new and exciting era in the treatment of AD with a number of targeted therapies approved or being studied which are referenced in this clinical review," said Mark Boguniewicz, MD, Professor, Division of Allergy-Immunology and Department of Pediatrics at National Jewish Health and University of Colorado School of Medicine.
For more details click on the link: http://dx.doi.org/10.1016/j.jaip.2018.10.021
Author Details
Hina Zahid Joined Medical Dialogue in 2017 with a passion to work as a Reporter. She coordinates with various national and international journals and association and covers all the stories related to Medical guidelines, Medical Journals, rare medical surgeries as well as all the updates in the medical field. Email: hina@medicaldialogues.in. Contact no. 011-43720751
To know about our editorial team click here
................................ Advertisement ................................