New guideline for whole-breast radiation therapy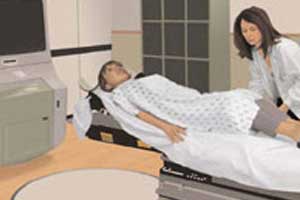 The American Society for Radiation Oncology (ASTRO) has issued a new clinical guideline for the use of whole-breast radiation therapy for breast cancer that expands the population of patients recommended to receive hypofractionated treatment. The guideline has been published in the journal Practical Radiation Oncology.
Breast cancer is the most common malignancy treated with radiation therapy in the United States, and whole-breast irradiation is the most frequently used type of radiation delivered for these tumors. With hypofractionated whole-breast irradiation, patients receive larger doses of radiation across fewer treatment sessions—typically completing treatment in 3 to 4 weeks, compared with 5 to 7 weeks for conventional treatment.
The recommendations are based on the study conducted by Benjamin D. Smith, Department of Radiation Oncology, MD Anderson Cancer Center, Houston, Texas, and colleagues to offer recommendations on fractionation for whole breast irradiation (WBI) with or without a tumor bed boost and guidance on treatment planning and delivery.
Recommendations for Delivery and Dosing of Whole-Breast Irradiation (without irradiation of regional nodes):


Treatment decisions, including decisions between hypofractionated and conventional approaches, should be individualized to each patient and shared between patient and physician(s).


For women with invasive breast cancer receiving whole-breast irradiation with or without the inclusion of the low axilla, the preferred dose-fractionation scheme is hypofractionated whole-breast irradiation (HF-WBI) to a dose of 4,000 cGy in 15 fractions or 4,250 cGy in 16 fractions.


The decision to offer hypofractionated therapy should be independent of tumor grade, whether the tumor is in the left or right breast, prior chemotherapy, prior or concurrent trastuzumab (Herceptin) or endocrine therapy, and breast size, provided that homogenous dosing can be achieved. It may also be independent of hormone receptor status, HER2 receptor status, margin status following surgical resection, and age.


For patients with ductal carcinoma in situ (DCIS), hypofractionated whole-breast irradiation may be used as an alternative to conventional fractionation.


Recommendations for Radiation Boost:


All decisions related to use and dosing of the boost should be discussed between the patient and provider(s) and consider individual patient, tumor, and treatment factors. These decisions also should be independent of whether the patient received conventional or hypofractionated whole-breast irradiation.


For invasive cancer cases, a tumor bed boost is recommended for patients with a positive margin following surgical resection, patients aged 50 years and younger, and patients aged 51 to 70 if they have a high-grade tumor. Omitting a tumor bed boost is suggested for patients with invasive cancer who are older than 70 and have a low-to-intermediate grade, hormone–positive tumors resected with widely negative margins.


For DCIS, a boost is recommended for patients aged 50 and younger, patients with high-grade tumors and/or those with positive or close margins following resection. A boost may be omitted for patients with DCIS who are older than 50; have been screen-detected; have smaller, low-to-intermediate grade tumors; and have widely negative margins following surgery.


Recommendations for Treatment Planning:


Treatment plans should be individualized after consideration of many factors, including tumor characteristics, patient anatomy, and comorbidities.


Three-dimensional conformal radiotherapy planning with a forward planned, field-in-field technique is recommended to achieve homogenous radiation dosing and full coverage of the tumor bed.


Approaches that incorporate deep inspiration breath hold, target, and organ-at-risk contouring and optimal patient positioning are recommended to minimize the radiation dose affecting nearby organs and normal tissue, including the heart, lungs, and opposite breast.


The guideline was based on a systematic literature review of studies published from January 2009 through January 2016. A total of 528 abstracts were retrieved from PubMed, and the 100 articles that met inclusion criteria were evaluated by a 15-member task force of radiation oncologists who specialize in breast cancer, a medical physicist, and a patient representative.
For more information click on the link: https://doi.org/10.1016/j.prro.2018.01.012
Source : With inputs from Practical Radiation Oncology