New guideline for amiodarone-related thyroid dysfunction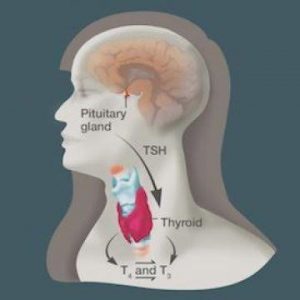 The European Thyroid Association (ETA) has developed a new guideline for the management of amiodarone-associated thyroid dysfunction. The recommendations are published in the European Thyroid Journal.
The guideline was drafted by a task force commissioned by ETA, consisting of Luigi Bartalena, Department of Medicine and Surgery, University of Insubria, Varese, Italy, and colleagues.
Amiodarone is a benzofuranic, iodine-rich drug, especially effective in the management of supraventricular arrhythmias and usually given at a daily dose of 200 mg. Because of its high iodine content (about 37% by weight, with a daily dissociation rate of iodine from the drug of about 10%) and pharmacological properties (inhibition of peripheral monodeiodination of thyroxine, T4), the drug causes changes in thyroid function tests and may be responsible for thyroid dysfunction (amiodarone-induced hypothyroidism, AIH, and amiodarone-induced thyrotoxicosis, AIT).
Key Recommendations:


AIH does not require amiodarone withdrawal. Levothyroxine (L-T4) treatment is recommended in all cases of overt AIH, whereas it may be avoided in some subclinical cases, particularly in the elderly, but with a frequent assessment of thyroid status to monitor possible progression to overt hypothyroidism.


AIT patients should be considered at risk of an emergency treatment at any time due to the increased mortality and morbidity, particularly in the elderly and/or if a reduced left ventricular dysfunction is present.


Total thyroidectomy should be performed without delay in AIT patients with deterioration of cardiac function or severe underlying cardiac disease and in those patients whose thyrotoxicosis is unresponsive to medical therapies. This decision should be made by a multidisciplinary team of a specialist endocrinologist, cardiologist, anesthesiologist, and high-volume thyroid surgeon.


Continue amiodarone in life-threatening arrhythmias and in patients with critical illness with poor prognosis; in type 2 AIT (AIT 2) patients with non-life-threatening arrhythmias, the drug may be continued, but this may be associated with a prolongation of the period needed to achieve euthyroidism and, possibly, with a higher risk of recurrence. The decision to continue or to stop amiodarone should be individualized in relation to cardiovascular risk stratification and taken jointly by specialist cardiologists and endocrinologists.


Antithyroid drugs should be chosen as the medical treatment of choice for most cases of AIT 2. Because the iodine-loaded thyroid gland is resistant to antithyroid drugs, a 4- to 6-week course of sodium perchlorate at doses not exceeding 1 g/day can be useful in accelerating control of hyperthyroidism.


Administer oral glucocorticoids as the first-line treatment for AIT 2 with moderate-to-severe thyrotoxicosis. The decision to treat milder or subclinical forms should be made taking into account the underlying cardiac conditions, with a close interaction with the specialist cardiologist.


In patients in whom AIT 2 presents as an emergency, salvage thyroidectomy can be considered as for type 1 AIT (AIT 1) and mixed/indefinite forms.


In patients in whom a mixed/indefinite form of AIT is suspected, thionamides should be given initially. Whether glucocorticoids should be added from the very beginning or after a relatively short period (reasonably 4–6 weeks) of poor response remains to be established.


We recommend ablation of a hyperfunctioning thyroid gland with an elective thyroidectomy or RAI treatment, as in other forms of spontaneous hyperthyroidism.


Euthyroidism should be restored before total thyroidectomy or RAI treatment unless definitive treatment is urgent.


Don't use recombinant human TSH (rhTSH) stimulation prior to RAI therapy in patients with AIT.


For further information clcik on the link: https://doi.org/10.1159/000486957