LVPEI doctors discover New Genes that result in childhood glaucoma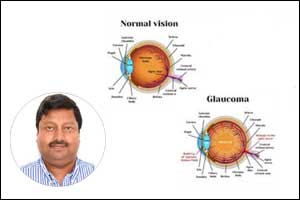 Among the blinding diseases in children, Primary congenital glaucoma (PCG) happens to be more common. It is a genetic disease that occurs due to gene defects in two chromosomes. The parents carry one copy of the affected chromosome and are normal. But the child inherits one affected chromosome from the father and the other affected chromosome from the mother and gets the disease. With an estimated prevalence of 1 in 3300 live births in the states of Andhra Pradesh and Telangana, it leads to permanent blindness, if left untreated.
A study in this regard was jointly led at LVPEI by Dr. Subhabrata Chakrabarti in collaboration with Dr. Hemant Khanna at the UMASS Medical School in Massachusetts, USA, and has been published in a premiere international journal, Human Genetics. The other colleagues involved in this study were MehaKabra, Wei Zhang, Sonika Rathi, Goutham Pyatla, Inderjeet Kaur, Anil K Mandal, Sirisha Senthil, MuralidharRamappa and Rohit C Khanna.
Need for the study
This study is significant because PCG is an important genetic cause of childhood blindness. Therefore, a molecular dissection of this debilitating disease is essential for its control and management. A clear understanding of the molecular genetics will pave the way for understanding the molecular mechanisms of this disease. The current incompleteness of knowledge about the molecular genetics of PCG is a bottleneck for mounting carrier detection and diagnostic protocols for the disease. The complete identification of the genes and mutations involved in PCG is of paramount importance in finding foolproof and inexpensive diagnostic tools.
Number of subjects involved in this study
The study was conducted on a large cohort of 2000 subjects. This included >500 PCG patients that were comprehensively diagnosed by Dr. Anil K Mandal and Dr Sirisha Senthil. The rest were normal subjects without the disease and used for comparison.
Methods and key findings
Our group has been instrumental in discovering new genes in PCG and understanding their underlying molecular basis in the involvement of this disease. Using high throughput genome screening (technically known as next-generation sequencing), we show that many new genes are responsible for PCG and the defects are transmitted together in children causing this disease. Our team discovered a new target in the cilia that may be responsible for PCG. Under normal conditions, these genes function by mingling with another gene inside the living cells to maintain the normal pressure in the eye. The collective defects across these genes disturb the normal interactions and may lead to PCG that occurs due to significantly raised eye pressure in the newborns.
Globally, such gene-gene interactions are not yet known in PCG fromany other populations and hence have tremendous potential for undertaking an early diagnosis by screening parents who may be carriers of such defective genes. Further, genetic counselling based on this knowledge would help in the prevention of such needless blindness in children.
To read the study in detail,
click on the link: https://link.springer.com/article/10.1007/s00439-017-1823-6
The author Dr Subhabrata Chakrabarti is the Associate Director of Research LV Prasad Eye Institute
Source : Press Release