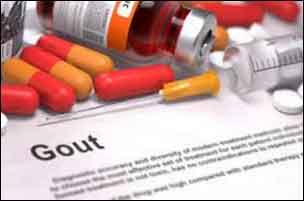 At times target serum uric acid levels are not achieved in  Gout Patients through treatment with allopurinol and diet alone In these circumstances, DUZALLO may be able to help. It is a fixed-dose oral combination of lesinurad (Zurampic, AstraZeneca) and allopurinol (multiple brands) recommended by EMA for treating hyperuricemia associated with gout. These two medicines are available in a single pill and both address under elimination and overproduction of uric acid.
Lesinurad is a selective uric acid reabsorption inhibitor that inhibits uric acid transporter whereas allopurinol reduces uric acid production by inhibiting xanthine oxidase. The drug will be available in film-coated tablets (300 mg/200 mg and 200 mg/200 mg) of Lesinurad and allopurinol.
DUZALLO tablets should be taken in the morning with food and water.
Patients should be instructed to stay well hydrated.
Some people taking DUZALLO may have kidney problems, such as a sudden decrease in kidney function (acute kidney failure). Therefore DUZALLO should not be prescribed to patients who have severe kidney problems, have received a kidney transplant or are on dialysis.
Assess renal function before initiating DUZALLO.
Do not initiate DUZALLO if eCLcr is below 45 mL/min.
Discontinue DUZALLO if eCLcr persistently falls below 45 mL/min.
The most common side effects are influenza, gastro-oesophageal reflux disease, headache and increased blood creatinine.
 DUZALLO should not be taken by patients who have
Severe kidney problems, have received a kidney transplant or are on dialysis
Have a fast breakdown of cancer cells that can lead to high uric acid (tumor lysis syndrome)
Have a rare inherited condition that causes too much uric acid in the blood (Lesch-Nyhan syndrome)
Had a skin rash or other allergic reaction after taking allopurinol.
Liver Problems
Heart Problems
Blood Problems: It can affect bone marrow and cause low red blood cells, white blood cells, and platelets
Drowsiness
US Food and Drug Administration has already approved Duzallo for the treatment of hyperuricemia associated with gout way back in August 2017.