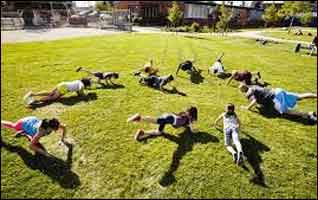 According to the new edition of the U.S. Physical Activity Guidelines for Americans, any amount and any type of exercise help health. Move more, sit less and take the stairs up to your office because even two minutes' worth exercise can add up to huge benefits for your immediate and long-term health. The new  advice has been released  at an American Heart Association conference in Chicago and published in the Journal of the American Medical Association.
The new guideline is the first update since the government's physical activity guidelines came out a decade ago. Earlier the guidelines held that unless physical activity lasted 10 minutes or longer, it didn't count toward a person's recommended weekly activity goals. Lately, the list of benefits of exercise has grown, and there's more evidence to back things that were of unknown value before, such as short, high-intense workouts and taking the stairs instead of an elevator.
"Physical activity is about finding opportunities to add movement throughout the day as part of a bigger commitment to healthy living," Adm. Brett Giroir, assistant secretary for health at the U.S. Department of Health and Human Services (HHS), said during a media briefing on the guidelines.
"Inactivity causes 10 per cent of premature mortality in the United States. That means if we can just get 25 per cent of inactive people to be active and meet the recommendations, almost 75,000 deaths would be prevented in the United States," Giroir added.
The update highlights a broader array of short- and long-term benefits from physical activity, all based on scientific evidence:
Just a single bout of physical activity can sharpen your mind, reduce your anxiety, lower your blood pressure, improve your sleep, and strengthen your body's ability to convert blood sugar into energy.
Regular physical activity can improve your brain health, reduce your risk of eight different forms of cancer, and lower your risk for excess weight gain.
Chronic health conditions improved by physical activity include osteoarthritis, high blood pressure, type 2 diabetes, anxiety and depression.
Exercise also helps improve brain function in people with dementia, multiple sclerosis, attention-deficit/hyperactivity disorder and Parkinson's disease.
"Doing something is better than doing nothing, and doing more is better than doing something," said Dr Donald Lloyd-Jones, a preventive medicine expert at Northwestern University in Chicago.
The weekly recommended amount of activity remains the same for adults — at least 150 to 300 minutes of moderate-intensity aerobic activity or 75 to 150 minutes of vigorous-intensity activity, combined with muscle-strengthening activity on at least two days.
The guidelines now recommend that children aged to 5 be active throughout the day to enhance growth and development — at least three hours a day. Kids aged 6 through 17 are recommended to have at least 60 minutes of moderate-to-vigorous physical activity.
Pregnant and postpartum women should do at least 150 minutes of moderate-intensity exercise a week, while older adults should add balance training on top of their aerobic and muscle-strengthening activities, the guidelines say.
The guidelines should form the foundation for policies supporting physical education in school, bike and pedestrian infrastructure in cities, and workplace promotion of exercise, Benjamin and Handberg said.
Physical activity is so important it should constitute a "fifth" vital sign for doctors, Handberg said.
Only 20 per cent of Americans get enough exercise now, and the childhood obesity problem has prompted the push to aim younger to prevent poor health later in life.  It is the best opportunity to set healthy habits during childhood as they last, the experts feel.