New EAN Guideline on palliative care in multiple sclerosis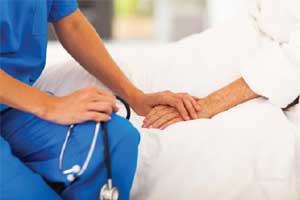 The European Academy of Neurology (EAN) has developed a new guideline on the palliative care of patients with multiple sclerosis (MS). The guideline was presented at Congress of the EAN 2018 by Alessandra Solari, Fondazione IRCCS Istituto Neurologico Carlo Besta, Milan, Italy.
The new multiple sclerosis guideline emphasizes the need for a multidisciplinary and multiprofessional approach to care, Wolfgang Grisold, MD, Medical University of Vienna, Austria, who is secretary general of the World Federation of Neurology and a co-author of the document, told Medscape.
934 individuals affected by multiple sclerosis from seven European countries played an instrumental part in developing a new guideline of the EAN on palliative care for people with severe MS. "There were 751 MS patients and 183 caregiver relatives involved," Prof Sascha Köpke (Lübeck) reported at the 4th Congress of the EAN in Lisbon.
Pain management is part of palliative care, David Oliver, a palliative care expert and honorary professor at the University of Kent, Canterbury, United Kingdom, told attendees during a workshop on palliative care in neurology held during the EAN meeting.
"We thought Parkinson disease and ALS patients didn't have pain, but studies show they do."
In addition to pain and mobility issues, these patients may suffer social isolation, emotional distress, and cognitive decline, said Oliver. They may also fear death or dying, or what some refer to as "the elephant in the room," he said.
Doctors are encouraged to have open discussions with their patients about death and dying. This, said Oliver, includes broaching the topic of when and whether to withdraw treatment.
The MS guideline also emphasizes the importance of caregivers, "who are often neglected," said Grisold.
Families of a patient facing the end of life are under enormous stress. There are demands on their time and financial resources, with some caregivers having to leave work to help tend to their loved one.
The guideline authors favored the idea of structured "debriefing" for caregivers by the palliative care team to "take away some of this burden," said Grisold.
Key Recommendations:


The palliative care team should maintain open lines of communication with the patient and family. Discussions should include advanced care planning, especially in cases where cognitive deterioration is expected.


The new MS guideline recommends "a shift" in focus from end-of-life care to palliative care.


Palliative care should be initiated early in the trajectory of care, at least for patients with cancer and heart failure, evidence shows that early initiation of palliative care helps ease their fears.


With the involvement of patients and their families, the emphasis should be laid on shared decision-making that underscores patient autonomy and promotes the individualization of diagnosis and therapy.


Doctors should ask about physical and psychosocial issues as patients often don't want to bother physicians about their complaints.


With the involvement of patients and their families in a new guideline, the EAN is emphasizing shared decision-making as an increasingly important concept that underscores patient autonomy and promotes the individualization of diagnosis and therapy. According to this approach, patients and physicians undergo a detailed consultation and then determine the medical treatment to be chosen.
Source : With inputs from Congress EAN 2018