New durable shoulder implant decreases surgical complications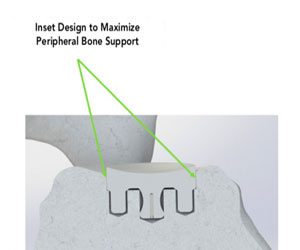 A novel inset shoulder implant has demonstrated increased durability by minimizing surgical complications and increasing its mechanical fixation. The innovation appeared in the Journal of shoulder and elbow surgery.
The shoulder joint is a ball-and-socket joint that allows for a wide range of motion. Though less it is common than hip replacements and knee replacements, shoulder replacement surgery can be just as effective at relieving severe pain from arthritis of the shoulder. the total shoulder replacement surgery replaces the damaged head of the humerus with a metal and plastic joint.
The replacement can be technically challenging in severe cases like a broken golf tee. the replacement involves a number of steps and each of them has is performed with perfection without fail. If any of the steps fail, then the patients may experience loosing of implant and instability along the should joint. Therefore, losing rate of shoulder implants are higher than hip and knee implants.
Typical glenoid implants sit on the surface of the bone without any initial stability, relying completely on backside fixation with pegs, like a painting hanging on the wall.
This new implant comprises new surgical techniques that have been invented by Dr Stephen Gunther from Charlottesville. The implant has been designed keeping in mind all the risk factors associated with shoulder implant failure. The implant has demonstrated increased fixation strength, reduction in complications of the surgery, and increased longevity of the implants. Dr Stephen has used an artificial glenoid implant which is partially imprinted on to the glenoid bone socket like a puzzle piece, and thus providing significantly increased immediate mechanical fixation strength.
The adoption of this inset technology is increasing progressively as more surgeons learn about the biomechanical advantages, the mechanical testing results, and the flexibility of the solution for multiple types of deficient bone.
The final scientific documentation, long-term successful clinical results, has been accepted for publication by the Journal of Shoulder and Elbow Surgery.