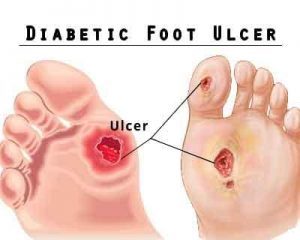 A recent study published in Lancet Diabetes & Endocrinology stated that Sucrose octasulfate dressing shows promise as an option for treating neuroischemic diabetic foot ulcers.
Diabetic foot ulcers are serious and challenging wounds associated with high risk of infection and lower-limb amputation which deemed neuroischaemic if peripheral neuropathy and peripheral artery disease both are present. Currently there are no satisfactory treatments for neuroischemic ulcers, and no evidence supports one particular dressing.
A recent study published in Lancet Diabetes & Endocrinology titled "Sucrose octasulfate dressing versus control dressing in patients with neuroischaemic diabetic foot ulcers (Explorer): an international, multicentre, double-blind, randomised, controlled trial" was conducted by Michael Edmonds, MD, of the King's College Hospital Diabetic Foot Clinic, London, United Kingdom, and colleagues with the aim to assess the effect of a sucrose octasulfate dressing versus a control dressing on wound closure in patients with neuroischaemic diabetic foot ulcers.
The study was a randomised, double-blind, controlled and 20 weeks clinical trial (Explorer) in 43 hospitals with specialised diabetic foot clinics in France, Spain, Italy, Germany, and the UK where the  eligible participants were inpatients or outpatients aged 18 years or older with diabetes and a non-infected neuroischaemic diabetic foot ulcer greater than 1 cm2 and of grade IC or IIC (as defined by the University of Texas Diabetic Wound Classification system).
The study compared sucrose octasulfate to placebo dressing in 240 patients with neuroischemic diabetic foot ulcers, during which wound healing was significantly improved among patients given the sucrose octasulfate dressing.
The authors found that the potassium salt of sucrose octasulfate acts at the tissue level to inhibit excess matrix metalloproteinases, which impede wound healing by the degradation of growth factors and destruction of the extracellular matrix. The ingredient also acts to restore growth factor function and tissue formation.
The authors Interpreted that a sucrose octasulfate dressing significantly improved wound closure of neuroischaemic diabetic foot ulcers without affecting safety after 20 weeks of treatment along with standard care. These findings support the use of sucrose octasulfate dressing as a local treatment for neuroischaemic diabetic foot ulcers.
 For more details, check out the full article on Lancet DOI: http://dx.doi.org/10.1016/S2213-8587(17)30438-2
Check out the accompanying editorial at DOI: http://dx.doi.org/10.1016/S2213-8587(17)30439-4