New device That improves management of Addison's disease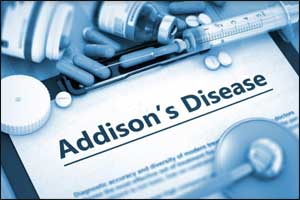 Addison's disease (primary adrenal failure) is a chronic disorder of the adrenal glands characterized by inadequate production of cortisol, a vital stress hormone. It is a rare disease which can be treated by taking daily tablets hydrocortisone or prednisolone and fludrocortisone for life. As long as the patients take steroid replacement, they lead a normal life. Adrenal crisis is precipitated by missed steroid medication, intercurrent illness, surgery, medication not absorbed by the patient or stopped by the patient/attending physician is a medical emergency and can be fatal if left untreated.
Patients with adrenal crisis can receive life-saving treatment at the touch of a button due to a new device devised by researchers at Newcastle University, UK. It allows for access to web-based emergency clinical management information for Addison's disease.
A study, published in BMJ Innovations, shows that the use of Quick Response (QR) codes allows patients in a serious condition to receive better emergency care by giving a healthcare professional immediate access to treatment protocols. The said study was done by Jolanta Weaver, Senior Lecturer at the Institute of Cellular Medicine, Newcastle University, and colleagues, to determine the relevance of QR code for management of Addison's disease.
Vital patient information
The QR code is printed on bracelets and plastic cards and, when scanned using a smartphone, links to the Addison's Disease Information System (ADIS), which provides comprehensive clinical management advice specific to the patient.
Information displayed by the ADIS includes emergency treatment the patient may require, a letter from a medical consultant and advice about preparation for surgery.
According to Weaver "Rare medical conditions are prone to poor management in non-specialist units as, by definition, their presentation is uncommon.
"Some healthcare professionals do not feel they have the appropriate knowledge or confidence to manage these cases and they may need more support from information systems such as ADIS.
"Our ADIS uses a web app running on a smart device, linked to a QR code. It is accessible at all times and shareable with healthcare professionals, patients, their carers, or when required in an emergency by bystanders.
"The system offers immediate access to clinical guidance, which we hope will prevent unnecessary deaths linked to Addison's disease."
Improving condition's management
Experts became interested in improving the management of Addison's disease and developing the ADIS after hearing about the preventable deaths of a number of patients due to adrenal crisis.
Hydrocortisone maintains health by helping control blood pressure and glucose levels and manage the body's response to stress. The disease is treated by daily tablets of a 'synthetic' cortisol.
For the study, 54 healthcare professionals - doctors, nurses, paramedics and dentists - were asked for their experience in managing adrenal crisis and their professional views of the ADIS.
Findings revealed that 37% of healthcare professionals have never seen and 59% have never managed an adrenal crisis.
The survey showed that there is a clinical need to improve the acute management of adrenal crisis. Healthcare professionals expressed a preference for QR code-linked information and as many as 96% of those who took part in the study thought that the ADIS would be helpful in an acute setting.
Dr Kilimangalan Narayanan, Consultant Physician and Head of Service Medicine, at the Queen Elizabeth Hospital in Gateshead, welcomed the use of the ADIS.
He said: "Dr Weaver's work has highlighted an important area of patient safety relevant to patients who have cortisol deficiency.
"Her team's work has formed the basis for subsequent further improvements in care by introducing a system of 'alerts' within the patient record on our hospital patient management system."
Quick Response codes
QR codes are free and can easily be generated and printed using free web-based software. Although they have been used for labeling medicines, and patients, to prevent wrong site surgery, their use to access clinical management information is a new development.
Dr Andrew Colman, a computer scientist, physician and research associate at Newcastle University, developed and implemented the ADIS.
He said: "I was motivated to develop this computer system to improve the care of patients with Addison's disease when I heard Dr Weaver give a lecture to medical staff about the condition.
"Dr Weaver explained that recently in the country two patients with Addison's disease had died unnecessarily due to poor clinical management and I wanted to find a way to help prevent this happening again.
"Many healthcare professionals lack the experience and knowledge of treating such rare conditions and the ADIS enables them to access life-saving information in a critical situation."
Source : With inputs from BMJ Innovations