Pregnant moms can themselves track baby's growth with new device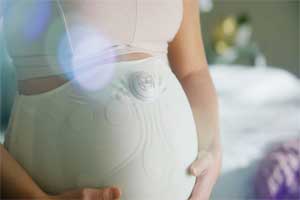 Lehi, Utah: Mothers-to-be can track their baby's wellness in utero by wearing a comfortable band wrapped around their abdomen. All thanks to first-of-its-kind consumer wearable product called Owlet Band, that connect pregnant moms with their babies allowing them to track their own sleep position, hear their baby's heart rate, automatically count their baby's kicks, notify them of baby's heartbeat and receive a wellness report to share with family and friends. This innovative technology sends real-time data to a smartphone giving parents a glimpse inside the womb all in the comfort of their own home.
Owlet Band is the winner of two Consumer Electronics Show (CES) awards in Las Vegas in the categories of Wearable Technology and Tech to Change the World.
Also Read: Both too much or little weight gain during pregnancy not good for baby
Features of Owlet Band:


Maternal sleep position indicators


Contraction tracking


Automated kick counting


Wellness notifications


Fetal heartbeat recording


Fetal heart rate tracking


Also Read: India's smallest baby survives at Hyderabad Hospital
Soon-to-be-moms often stress about the wellness of their baby in the womb. Now, with the help of this innovative device, mothers will not be only able to heart their infant's heartbeat but also count their baby's kick automatically, providing them with a little more peace of mind.
Made with soft fiber blends, the Owlet Band hugs the shape of the mother's growing and changing body from 24 weeks to full-term and uses passive and trusted ECG technology 30 times smaller than comparable technology. Also, mothers can save and record audio of their baby's heart rate, allowing them to bond with their little one months before meeting them.
The Owlet Band is being tested for accuracy validation and feasibility in a study with Perinatal Behavioral Physiology laboratory at Columbia University Irving Medical Center. "We are continually searching for these types of products that we, as researchers, can utilize to collect and analyze meaningful physiological data with confidence. We are optimistic that the Owlet Band will provide this valuable information for non-invasive assessment of maternal and fetal health," says Dr William P. Fifer, Professor in Psychiatry and Pediatrics at Columbia University.
Sentiment amongst over 300 pregnant women in which the device was tested internally, has been extremely positive with respondents noting the No. 1 benefit of the Owlet Band being the assurance that their baby is okay. In addition, they started feeling even more peace of mind being able to hear their baby's heartbeat and view live readings via the app.
The band's monitoring technology is enabled by DuPont™ Intexar™, a smart clothing technology that integrates seamlessly into a fabric. Intexar transforms materials into smart, wearable health care that sense and transmit biometric signals. The Intexar sensors are extremely thin and are bonded to a stretchable knit fabric band, providing a form-fitting and comfortable feel.