Jaipur: Doctors at BMCHRC remove 9kg Large Soft Tissue Sarcoma from patients thigh
New DelhiA resident of Ganagnager in Rajasthan was diagnosed as Large Soft Tissue Sarcoma (9Kg) with Neuro Vascular involvement. After visiting several hospitals for treatment and months of pain in his joints and muscles with difficulty in walk. Patient underwent several investigations which revealed he had cancer and doctors suggested him for leg amputation.
He was operated elsewhere in 2013 but swelling progressed then he consulted Dr Praveen Gupta, Sr. Bone cancer Specialist of BMCHRC.Dr Gupta and his team operated the patient and removed the 9 kg tumor with the reconstruction of the vessels from the opposite leg.
Post long and successful surgery with had few physiotherapy sessions patient recovered and regained the strength of his legs and walked out from hospital with a grin of happiness and satisfaction.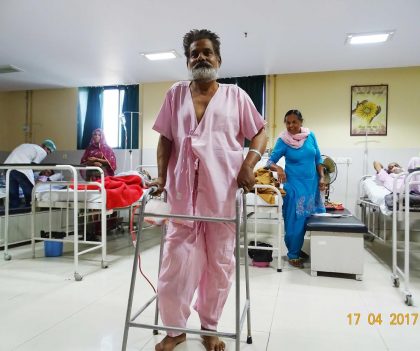 An NABH accredited institution, Bhagwan Mahaveer Cancer Hospital and Research Centre, Jaipur (BMCHRC) came into existence in the year 1997 as a cancer specialty hospital offering cancer prevention, treatment, education and research with just 50 beds at an initial stage. Eighteen years later, it grew into a super-specialty, 200-beded hospital with leading edge infrastructure housing several wards, laboratories, utility services and specialties. Organ specific departments at BMCHRC include Surgical Oncology, Medical Oncology, Radiation Oncology, Radiology, Pathology and Blood Bank. A separate seven-storied IPD block is a recent addition in the better interest of patient care.