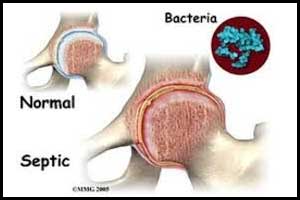 The lead compound PLG0206 has been granted Qualified Infectious Disease Product (QIDP) designation by the U.S. Food and Drug Administration for the treatment of prosthetic joint infections (PJI), announced Peptilogics, a development stage company.PJI is one of the most challenging complications of growing bacteria and a serious, life-threatening condition with few effective treatment options.
PLG0206 is designed with the Company's eCAP (engineered cationic antibiotic peptide) platform that enhances the antimicrobial activity found in naturally occurring peptides and improves the safety profile. eCAPs are being engineered as intravenous (IV) antibiotics with highly amplified activity by targeting and disrupting bacterial membranes. This causes rapid bacterial eradication via chemical imbalance without inducing lysis. Unlike most of the currently approved antibiotics that are effective against actively growing bacteria, eCAPs have shown activity against growing and dormant bacteria
Preclinical studies showed that treatment with PLG0206 eradicated different biofilm-associated bacteria (including methicillin-sensitive  [MSSA] and methicillin-resistant [MRSA] Staphylococcus aureus isolates), sterilizing implants after short exposure in a biofilm model.
The data suggested PLG0206 could quickly kill implant-associated biofilm bacteria in a clinical setting. The QIDP designation was created by the Generating Antibiotic Incentives Now (GAIN) Act, which was part of the FDA Safety and Innovation Act of 2012 (FDASIA). QIDP designation provides certain incentives for the development of new antibiotics, including an additional five years of market exclusivity, as well as eligibility for Priority Review and Fast Track designation.
"Researchers estimate that by 2020, more than 65,000 patients per year with prosthetic joint implants will develop PJIs, resulting in over $1.6 billion in annual inpatient costs," said Sanjay Kakkar M.D., the chief executive officer of Peptidomics. He added,"We are delighted that the FDA has granted PLG0206 QIDP designation, and we look forward to advancing the compound into clinical development later this year."
The following two tabs change content below.
Vinay Singh
Vinay Singh joined Medical Dialogue as Desk Editor in 2018. He covers the medical speciality news in different medical categories including Medical guidelines, updates from Medical Journals and Case Reports. He completed his graduation in Biotechnology from AAIDU and did his MBA from IILM Gurgaon. He can be contacted at editorial@medicaldialogues.in . Contact no. 011-43720751
Latest posts by Vinay Singh (see all)