New combination of drugs for treatment of ovarian cancer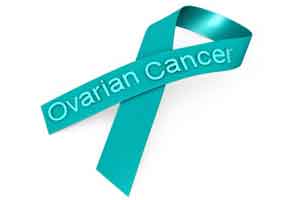 A therapy combination consisting of bromodomain and extra-terminal inhibitors (BETi), and poly ADP ribose polymerase inhibitors (PARPi) might be beneficial for the treatment of certain types of ovarian cancer, according to a study published in the journal Gynecologic Oncology.
The study was conducted by Dineo Khabele, Director, gynecologic oncology division of University of Kansas Cancer Center, and colleagues to assess whether BRD4 (BET gene) inhibition sensitizes ovarian cancer cells to PARPi by reducing HR efficiency and increasing DNA damage.
Ovarian cancer ranks fifth in cancer deaths among women, accounting for more deaths than any other cancer of the female reproductive system. According to the American Cancer Society, about 22,240 women are diagnosed with ovarian cancer each year.
PARP inhibitor is a type of targeted cancer therapy recently approved by the Food & Drug Administration. PARP is a type of enzyme involved in several cell functions, including the repair of DNA damage. Suppressing PARP helps keep cancer cells from repairing their damaged DNA, causing cell death. But, homologous recombination (HR)-proficient ovarian tumors have poorer clinical outcomes and show resistance to PARPi.
To help improve PARP inhibitors efficacy in treating ovarian cancer, Dr. Khabele and her team combined the therapy with another new class of drugs, BET inhibitors. BET inhibitors have the ability to downregulate DNA repair genes in ovarian cancer cells, making them more prone to DNA damage and cell death.
For the study, the researchers treated HR-proficient ovarian cancer cell lines with BRD4-targeting siRNA, novel and established (JQ1) BET inhibitors (BETi) and PARPi (olaparib, rucaparib). Cell growth and viability were assessed by sulforhodamine B assays in vitro, and in SKOV-3 and ovarian cancer patient-derived xenografts in vivo. DNA damage and repair, apoptosis markers and proliferation markers were assessed by immunofluorescence and western blot.
The team found that, when combined, PARP inhibitors and BET inhibitors work together to inhibit tumor growth, reduce cancer gene expression and proliferation and increase the incidence of cell death. Furthermore, the drug combination was well-tolerated and non-toxic in animal studies.
"These findings are very exciting and help to lay important groundwork for the future development of PARP inhibitors and BET inhibitors in clinical trials," Dr. Khabele says.
Based on the study, the authors concluded that these results provide a strong rationale for using BETi to extend the therapeutic efficacy of PARPi to HR-proficient ovarian tumors and could benefit a substantial number of women diagnosed with this devastating disease.
Source : With inputs from Gynecologic Oncology