New Coagulation Monitor for self regulation of anticoagulants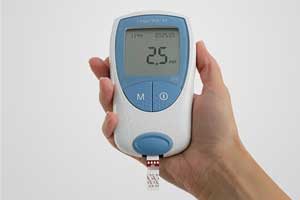 CoaguChek Vantus system, the first self-testing device for coagulation monitoring with built-in Bluetooth technology to be launched soon, announced Roche, the world's largest biotech company.
Patient self-testing with the Bluetooth-enabled CoaguChek Vantus system allows for a new level of patient monitoring. Patients can use their tablet or smartphone with a compatible app to send their results automatically via wireless connectivity which enables healthcare providers to receive patient INR results rapidly and accurately, while also reducing visits to the lab.
A prothrombin time (PT) is a test used to help detect and diagnose a bleeding disorder or excessive clotting disorder; the international normalized ratio (INR) is calculated from a PT result and is used to monitor how well the blood-thinning medication (anticoagulant) warfarin is working to prevent blood clots.
The system is intended for properly selected trained users ≥22 years of age who have been stabilized on anticoagulation with vitamin K antagonists for ≥6 weeks.
The CoaguChek Vantus system includes several additional features to help patients with their self-testing including medication and testing reminders, flagging of results in relation to the target range and the option to insert comments to the result. The hand-held device will enable patients to conveniently monitor INR results with an intuitive user-interface while enabling flexible remote connectivity to their healthcare providers through Bluetooth technology. Trend report functionality also provides both patients and their healthcare provider with an overview of the stability of their anticoagulation levels.
According to a 2016 study (Heneghan CJ, 2016), self-testing of oral anticoagulation therapy resulted in fewer thromboembolic events when compared with lab testing.
"As healthcare systems face continued pressure to deliver improved access to care at a lower cost, increased connectivity between healthcare providers and patients becomes even more important," said Dr. Alan Wright, Chief Medical Officer, Roche Diagnostics. "This innovative technology sets the standard in coagulation monitoring by providing high quality, convenient testing while optimizing the patient result reporting workflow.
Source : press release