Breath and urine analysis for early detection of breast cancer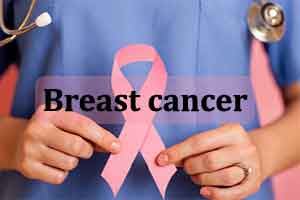 Early and accurate detection of breast cancer is now possible by the analysis of urine sample and exhaled breath through Gas-Chromatography Mass-Spectrometry (GC-MS) and electronic noses (ENs) respectively, suggests a study published in the journal Computers in Biology and Medicine.
The study was conducted by Yehuda Zeiri, professor at Ben-Gurion University's Department of Biomedical Engineering, and colleagues, to examine the possibility of breast cancer detection by analysis of exhaled breath and urine samples.
Breast cancer is the most commonly diagnosed malignancy among females and the leading cause of death around the world. Its early detection is associated with increased survival rate in the patients. Mammography screenings, which are proven to significantly reduce mortality associated with the disease, are not always able to detect small tumors in dense breast tissue. In fact, typical mammography sensitivity, which is 75 to 85 percent accurate, decreases to 30 to 50 percent in dense tissue.
For carrying out the research, the scientists collected exhaled breath samples from 48 breast cancer patients and 45 healthy women served as a control group. Urine samples were collected from 37 patients who were diagnosed with breast cancer based on physical or mammography tests prior to any surgery, and from 36 healthy women. Two commercial electronic noses (ENs) were used for the analysis of exhaled breath and Gas-Chromatography Mass-Spectrometry (GC-MS) was used for the analysis of urine samples.
Following the method, the researchers were able to detect breast cancer with more than 95 percent average accuracy using an inexpensive commercial electronic nose (e-nose) that identifies unique breath patterns in women with breast cancer. In addition, their revamped statistical analyses of urine samples submitted both by healthy patients and those diagnosed with breast cancer yielded 85 percent average accuracy.
"Breast cancer survival is strongly tied to the sensitivity of tumor detection; accurate methods for detecting smaller, earlier tumors remains a priority," says Professor Zeiri "Our new approach utilizing urine and exhaled breath samples, analyzed with inexpensive, commercially available processes, is non-invasive, accessible and may be easily implemented in a variety of settings."
Drawbacks associated with current diagnostic imaging detection for smaller tumors include dual-energy digital mammography, while effective, increases radiation exposure, and magnetic resonance imaging (MRI) is expensive. Biopsies and serum biomarker identification processes are invasive, equipment-intensive and require significant expertise.
For further information click on the link:
https://doi.org/10.1016/j.compbiomed.2018.04.002
Source : With inputs from CBM