New biomarkers useful for predicting renal prognosis in diabetes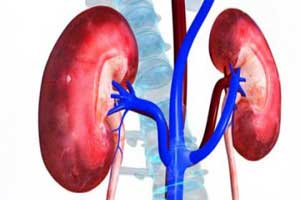 A new study published in Diabetes Care has reported that the urinary glycan profile identified may be useful for predicting renal prognosis in patients with type 2 diabetes.
The presence of albumin in urine is a common way of diagnosing diabetic kidney disease(DKD), as normally the disease causes no clear symptoms before reaching the advanced stages. DKD is normally diagnosed by checking for proteins, in particular, albumin, that leak from the blood into the urine as a consequence of the malfunctioning filtering; these proteins are used as biomarkers to monitor the progression of DKD and predict the renal prognosis at the early stages of the disease.
Read Also: Sugar-sweetened beverages increase risk of chronic kidney disease
However, new biomarkers that could help to identify the onset of DKD earlier and to predict the renal prognosis more accurately would be very beneficial to help patients with a rapid deterioration of renal function.
Recently it has emerged that glycans - complex molecules have a role in diabetes and in the progression of DKD. Because of their complicated structure, glycans are technically difficult to quantify in urine samples, and few studies exist about the role of glycosylation in DKD.
Glycans are complex molecules consisting of a large number of sugar molecules linked in a particular way; they can attach to a variety of biological molecules, in particular proteins, through an enzymatic process called glycosylation.
Koki Mise and associates conducted a study which included 675 patients with type 2 diabetes. The investigators assessed the baseline urinary glycan signals binding to 45 lectins with different specificities. The endpoint was a decrease of estimated glomerular filtration rate (eGFR) by ≥30% from baseline or dialysis for end-stage renal disease. The patients were monitored over a period of 4 years.
Read Also: Aerobic exercise reduces risk of kidney disease in diabetes
The researchers from Okayama University suggested that levels of glycans are significantly associated with the evolution of renal function and that changes in the glycosylation of a particular protein occur in the early stages of DKD, before other detectable signs of deterioration of renal function develop.
Because the indexes for glycans are associated with the renal prognosis independent of other indicators commonly used, adding the combined glycan index to other indicators of the progression of the disease can significantly improve the prediction of the renal outcome. The results of the current study are also of fundamental interest, as they provide insight into how glycosylation changes in DKD.
The researchers warrant the need for additional investigation of glycosylation changes and urinary glycan excretion in DKD.
For full information log on to http://care.diabetesjournals.org/content/41/8/1765