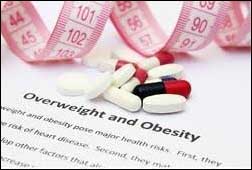 Obesity is a major public health problem globally and is a leading cause of morbidity, compromised quality of life and increasing healthcare costs. According to an estimate in the U.S., 40 percent of adults are obese and 30 percent are overweight and the estimated cost of battling serious obesity-related chronic diseases is more than $150 billion each year.This disease is slowly assuming epidemic proportions and therefore scientists are always in the lookout for new drugs to control this menace in addition to effecting lifestyle changes.Dr.Patrick M. O'Neil,  at the Medical University of South Carolina in Charleston, S.C and colleagues have conducted a new study and found that a  compound that mimics a naturally occurring hormone that regulates appetite may help people who have obesity but not diabetes to lose weight. The research has been presented at ENDO 2018, the Endocrine Society's 100th annual meeting in Chicago, Ill.
Previous antiobesity drugs or anorexigens, particularly centrally acting agents, have poor safety records.In order to address growing demand for safe and effective anti-obesity drugs researchers in this study have identified a compound, semaglutide as the new anti-obesity option, Semaglutide has a chemical structure that is quite similar to hormone glucagon-like peptide 1 (GLP-1), that regulates both insulin secretion and appetite. Semaglutide injection has already been approved as a once-weekly adjunct to diet and exercise to improve glycemic control in adults with type 2 diabetes by the U.S. Food and Drug Administration in December 2017.
In the new study the researchers recruited  957 participants with a body mass index (BMI) of at least 30 without diabetes, 35 percent of whom were males.  They were randomly assigned to seven different groups out of which five groups received different doses of semaglutide (between 0.05 mg and 0.4 mg) via injection once daily; a sixth group received a placebo, and a seventh group received 3 mg of the diabetes drug liraglutide. All participants received monthly diet and exercise counselings.
After one year, all participants receiving semaglutide had lost significantly more weight than those receiving placebo. The higher the dose participants received, the greater their average weight loss. Participants who received 0.05 mg of semaglutide daily lost an average of 6.0 percent of their body weight; the 0.1 mg group lost an average of 8.6 percent; the 0.3 mg group lost an average of 11.2 percent; and those receiving a daily dose of 0.4 mg lost an average of 13.8 percent. Those receiving liraglutide lost an average of 7.8 percent of their body weight, while those in the placebo group lost only 2.3 percent on average.
Out of all participants, Sixty-five percent who received 0.4 mg of semaglutide per day lost at least 10 percent of their body weight, compared with 10 percent of those in the placebo group and 34 percent of the liraglutide group.There were no major side effects in those taking semaglutide except mild/moderate nausea, as seen previously with GLP-1 receptor agonists.
"This randomized study of weight loss induced with semaglutide in people with obesity but without diabetes has shown the highest weight reductions yet seen for any pharmaceutical intervention," said lead author Patrick M. O'Neil, Ph.D., Director of the Weight Management Center and Professor of Psychiatry and Behavioral Sciences at the Medical University of South Carolina in Charleston, S.C.The author noted that further studies of semaglutide for obesity are underway.
The research finding may be harbinger of a new era of obesity management and a step further towards control of an ever-growing health problem.