New Anaphylaxis Treatment for Infants & Toddlers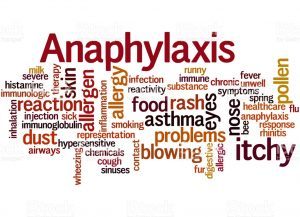 Anaphylaxis is a serious allergic reaction that may occur as a result of exposure to allergens including tree nuts, peanuts, milk, eggs, fish, shellfish, soy, wheat, insect bites, latex, and medications.For an infant or small child with a life-threatening allergy or anaphylaxis could potentially be fatal. Unfortunately Epinephrine the most effective drug for anaphylaxis is not available in prefixed dose format for infants.
Kaléo, a privately-held pharmaceutical company, announced the availability of Auvi-Q (epinephrine injection) 0.1mg by prescription from May 1, 2018, for the treatment of life-threatening allergic reactions, including anaphylaxis, in infants and toddlers weighing 16.5 to 33lbs. The supplemental New Drug Application (sNDA) for the 0.1mg strength was granted Priority Review by the Food and Drug Administration (FDA).
Auvi-Q o.1 mg features a shorter needle length and a lower dose of epinephrine as compared to other FDA-approved epinephrine auto-injectors (EAIs), AUVI-q 0.1 mg is the first and only FDA-approved EAI designed for this patient population. The low-dose auto-injector is made up of a retractable needle and a voice guide system that provides step-by-step instructions to the patients through the injection process like the other Auvi-Q auto-injector strengths (0.15mg and 0.3mg).
"This day means a lot to me personally, as I suffer from life-threatening allergies and have a child who was diagnosed with life-threatening allergies as an infant," said Eric S. Edwards, MD, PhD, Vice President of Innovation and Research & Development at kaléo. "Before the introduction of AUVI-q0.1 mg, the youngest and most vulnerable population (16.5 to 33 pounds; 7.5 to 15 kilograms) did not have a treatment for anaphylaxis designed for them."
Auvi-Q 0.1mg will be available as a carton containing 2 auto-injectors and 1 Trainer injector.
Source : With inputs from Kal�o