Neonatal cholestasis - Standard Treatment Guidelines
Neonatal cholestatis is a pathological condition in the newborn where in bile flow from the liver is reduced. Neonatal Cholestasis Syndrome (NCS) includes a wide spectrum of clinical conditions ranging from congenital malformations of the hepatobiliary tree, infections, inborn errors of metabolism to some of the recently identified clinical conditions with or without genetic predilection. Most of these disorders have linkage with insults during antenatal, natal and postnatal periods. NCS has largely remained ignored in our country.
Ministry of Health and Family Welfare, Government of India has issued the Standard Treatment Guidelines for Neonatal cholestasis. Following are the major recommendations :
Case definition:
Neonatal cholestasis refers to conjugated hyperbilirubinemia >1.5 – 2 mg% and/or direct component of more than 20% of total bilirubin in a newborn/ infant with passage of high coloured urine with or without clay stools.
Incidence of The Condition In Our Country
NCS constitutes 30% of referrals with hepatobiliary disorders in India. The average age of presentation to a specialized center is 3.5 months (range birth to 15 months) with a consequent delay of 3 months in referral (medical and surgical centers). Based on consensus conference by paediatric gastroenterology, out of 1008 cases analysed in our country


Hepatocellular causes: 53 %( neonatal hepatitis-47%, metabolic-4%, others-2%)


Obstructive causes: 38 %( billiary atresia-34%, Choledochal cyst-4%)


Ductal paucity: 3%


Idiopathic: 6%


In neonatal hepatitis-


Idiopathic giant cell hepatitis: 64%,


TORCH: 22%


Sepsis: 8%


Others: 6%


Differential Diagnosis
A. Causes of Extra Hepatic Obstruction


Biliary Atresia


Choledochal Cyst


Spontaneous perforation of bile ducts


Biliary stenosis


Inspissation of bile ducts


Mass/peritoneal bands


B. Hepatocellular
1. Infective


Sepsis


TORCH


Malaria


UTI


Hepatitis


Other Viral infections


HIV


2. Metabolic


Galactossemia


Hereditary Fructosemia


Tyrosinemia


Alfa 1 AT deficiency


Bile acid disorders


Fatty Acid Oxidation defects


Cystic fibrosis


Storage disorders


Neonatal hemochromatosis


Zelweger's disease


3. Miscellaneous


TPN


Shock


Hypoperfusion


Downs


Congenital heart / valvular abn


4. Idiopathic
C. Paucity of Intrahepatic Ducts


Syndromic - Alagille's syndrome, Byler's, Aagene's


Non - Syndromic - a 1AT deficiency, Idiopathic, Familial


Prevention And Counseling
A high index of suspicion is necessary. Mothers must be informed about the need to seek medical attention if jaundice persists beyond two weeks of birth and / or baby passes pale stools and high coloured urine. If the previous sibling has had liver disease antenatal counselling and referral for further evaluation may be necessary.
Optimal Diagnostic Criteria, Investigations, Treatment & Referral Criteria
Diagnostic Criteria :
1. Clinical: Neonate with jaundice persistent beyond 2 weeks, dark colour urine
and/or pale stool
2. Screening Biochemistry: Serum bilirubin direct and indirect
Any child that meets with the clinical and /or biochemical criteria needs
investigation, treatment and referral.
Typical presentation:


Newborn with jaundice/ high colored urine with or without clay colour stools beyond
two weeks of age.


Typically a child with biliary atresia is usually a term baby with normal weight, accepting
feeds well.


Pigmented stools do not rule out Biliary atresia, upto 30% of biliary atresia stools are
yellow in the early weeks.


Clinical examinations:
Clinical evaluation-
1. Sick baby: Sepsis/UTI/Congenital infections/metabolic disorders.
2. Dysmorphism : Downs syndrome/ alagilles syndrome.
3. Examination of eye and fundus must be done-


Cataract in Galactosemia


Chorioretinitis in TORCH


Posterior embryotoxins in alagilles syndrome


Cherry red spot in Lipid storage disorders


4. Chronic Cholestatis – Pruritis/ irritability/xanthomas
5. Failure to thrive.
*Situation 1: At Secondary Hospital/ Non-Metro situation: Optimal Standards of Treatment in Situations where technology and resources are limited
Clinical Diagnosis:


Jaundiced child


Dark urine


Pale stool


Hepatomegaly ± splenomegaly


Investigations:


Hematology: CBC


Urine routine & microscopy


Biochemistry:
1. LFT
2. RFT
3. PT/INR
4. RBS


Imaging: USG Abdomen


Treatment:
Standard Operating procedure


Resuscitation if required,


Correction of Hypoglycemia


Administration of Vitamin K (0.3mg/kg parenteral)


Initiation of antibiotics: if there is clinical or laboratory evidence of infection or sepsis


In Patient :
Child needs admission if


there is clinical evidence of dehydration


clinical ± laboratory evidence of hypoglycemia


sepsis or coagulopathy.


failure to thrive


Out Patient :
Baby who is clinically well, feeding well and has no evidence of hypoglycemia or coagulopathy can be investigated as an outpatient
Day Care :
No role of day care admission.
Referral criteria : ( All workup at this level must be completed by 48 hours)
1. Any child with neonatal cholestasis syndrome who is > 2 weeks
of age
2. Clinically unwell, poor feeding, poor weight gain
3. Evidence of coagulopathy, hypoglycemia or sepsis
*Situation 2: At Super Specialty Facility in Metro location where higher-end technology is available
Clinical Diagnosis:


Jaundiced child


Dark urine


Pale stool


Hepatomegaly ± splenomegaly


Investigations: Urgent Investigations


Blood counts


LFT


PT


Electrolytes


Blood culture


Urine culture, Urine microscopy


Urine reducing substances


GRBS


Ascitic tap (if ascites)


Standard LFT are usually abnormal with modestly raised levels of AST, ALT, and alkaline phosphatase. GGT is raised in all cases of cholestasis except in one of the bile acid synthetic defects. Serum albumin does not fall till late. None of the biochemical tests are of deciding value and at best reflect the degree of damage to liver.
Tests directed towards infective and metabolic causes :
Blood Tests
• TORCH, VDRL, Hepatitis B/C, HIV
• T4, TSH
• Serum cortisol
• α l AT levels and phenotype
• Galactose 1 Phosphate Uridyl transferase (to r/o galactosemia)
• Urinary succinyl acetone (to r/o tyrosinemia)
• Cholesterol, triglycerides
• S. iron and ferritin levels (to r/o neonatal hemachromatosis)
Radiology
Role of USG
USG can exclude choledochal cyst, any focal lesions, dilated CBD, anomalies of viscera or
portal hypertension.
Role of Hida Scan
Hepatobiliary scintigraphy, after a 5 day priming with phenobarbitone,is useful. Excretion of the radio-tracer into the gut rules out biliary atresia. However, the converse is not true and absence of gut excretion of radiotracer requires further evaluation.
Role of Liver Biopsy
Liver biopsy is useful in the charecterisation of NCS in some cases. Coagulopathy and ascitis are contraindications for percutaneous liver biopsy.
Treatment
On suspicion of cholestatic liver disease, vitamin-K is started along with supplementation of other fat soluble vitamins (A,D,E,)
Treatable Causes
Medical


Sepsis


UTI


Congenital infections


Hepatitis


Galactosemia


Heriditary fructose intolerance


Hypothyroidism


Hypopitaris m


Tyrosinaemia


Surgical
1. Biliary Atresia
2. Choledochal cyst
3. Spontaneous perforation of bile ducts
4. Inspissation of bile ducts
Supportive Care
Nutrition


Energy - 125% RDA


Protein intake -2-3 gm/kg/day in infants (0.5gm/kg/day in hepatic encephalopathy)


Vitamin A should be supplemented in a dose of 50,000 IU intramuscularly at diagnosis and then 10,000 IU monthly till cholestasis resolves. Avoid hyper- vitaminosis as it can enhance fibrosis.


Vitamin D should be supplemented in a dose of 30,000 IU intramuscular at diag-nosis and then monthly till cholestasis resolves. If the child has rickets give a dose of 60,000 IU.


Oral Vitamin E, supplementation (50-200 mg/day) is required to avoid neuro-muscular degeneration, retinal pigmentation and hemolytic anemia.


Provide Vitamin K 5 mg/day intramuscular/intravenous for first 3 days and then 5 mg weekly. Perform prothombin time (PT) monthly. Administer injectable vitamin K if PT is prolonged.


Water soluble vitamins and trace elements (2-5) times RDA)


Pruritis
For control of pruritis following agents have been tried :-
1. Phenobarbitone-5mg/kg/day
2. Rifampicin- 1Omg/kg/day
3. Ursodeoxycholic acid-10-20 mg/kg/day
4. Cholestyramine-4- 8gm/kg/day
5. Terfenadine l-3mg/kg/day
6. Carbamazepine
Liver Transplantation
This may remain the only option for infants with decompensated liver disease (ascites and /or encephalopathy) or failed portoenterostomy.
Treatment Plan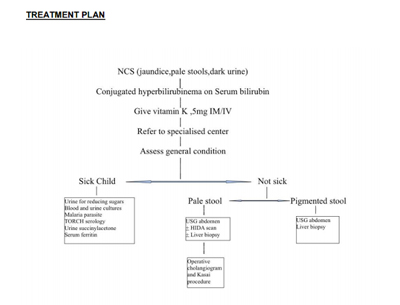 Standard Operating procedure


In Patient only: May require ICU monitoring


Referral criteria:


Referral criteria for a specialist centre:
Any case of neonatal cholestasis as defined by above parameters with deranged liver function tests to be referred to tertiary centre for further management.
Child needs to be referred to a specialist pediatric liver unit if,
1. Evidence of progressive liver failure
2. Evidence of complications such as portal
hypertension, SBP, Respiratory distress, pathological
fractures.
3. Failure of Kasai operation
Evidence of liver cirrhosis in biopsy
Jaundice not cleared by 2 months after surgery
4. Considerations for liver transplant
Situation 2:
Referred cases from secondary centres or any newborn with evidence of cholestatis with deranged liver function tests.
Investigation:




Medical causes


Surgical causes




As in situation 1 &
Additional investigations
Blood culture
Urine culture
Urine reducing substances
Prothrombin time
T3/T4/TSH
TORCH/VDRL
Hep B/C, HIV
Metabolic work up


USG Abdomen:
Day 5 : Prepare patient for HIDA (Priming
with gardenal 3-5 mg/kg)




Subsequent investigation (if initial workup negative)


α 1 antitrypsin levels & phenotype


Galactose 1- P uridyl transferase


Urinary succinyl acetone


Cholesterol, Triglycerides


Serum ferritin, iron


Radiology


Rare investigation


Bone marrow aspiration/skin biopsy/muscle biopsy/ serum lactate / pyruvate / ammonia, very long chain fatty acid, urinary organic acids, urinary bile acids, auto immune screen / sweat chloride test.
Treatment:


Aims of treatment


Within 7 days of hospitalisation treatment is mandatory.


Kasai's Portoenterostomy preferably within 60 days of life.


Medical:
Neonatal hepatitis:
2. Bacterial Sepsis/ UTI : antibiotics
3. Malaria : antimalarial
4. Toxoplasmosis & syphilis : specific antibiotics
5. CMV : ganciclovir
6. Herpes : acyclovir
7. Metabolic:
8. Galactosemia : stop lactose milk
9. Fructosemia : withdrawal of fructose containing item
10. Hypothyroidism : Thyroxine
Chronic cholestatis:


Basically improve nutritional status


Provide energy (125%RDA)


Proteins intake 2-3 gm/kg


MCT diet


Fat Soluble vitamins (A/D/E/K)


Pruritis control:


Phenobarbitone / Rifampicin/ UDCA/ Cholestyramine/ Terfenadine/ Carbamazepine
Surgical




Biliary atresia


Kasai Portoenterostomy




Choledochal cyst


Laparatomy




Failed Kasai
End stage liver disease
PFIC


Liver Transplantation




WHO DOES WHAT? and TIMELINES
Doctor :


Close and continuous and crucial monitoring of the child


Planning of tests and treatment


Nurse


Counseling and support to child and family


Assisting to treatment


Technician
Resources Required For One Patient / Procedure (Patient Weight 60 KGS)
(Units to be specified for human resources, investigations, drugs and consumables and equipment. Quantity to also be specified)




Situation


Human
resources


Investigations


Drugs &
consumables


Equipment




1


Pediatrician
Pediatric Nurse
Radiologist
Lab. Technician




Vitamin K
Antibiotics
I.V. Glucose/ Fluids
I.V. canula
I.v. set


Radiant Warmer
Saturation monitor
Basic Lab.
USG




2


Pediatrician with
liver intensivists
Pediatric surgeon
Pediatric
anaesthesists
Radiologists
Gastroenterologis
ts
Nuclear medicine




Higher antibiotics


NICU
Pediatric O.T.
Pathologist for
biopsy
Radiologists
Nuclear medicine




Guidelines by The Ministry of Health and Family Welfare :


Dr.Sanjay Rao MS,MCh (Paediatric Surgery) Consultant Pediatric Surgeon, Narayana Hrudayalaya, Bangalore


Dr.Rajiv Aggarwal, MD Consultant Pediatrician and Neonatologist Narayana Hrudayalaya, Bangalore


Assisted by:
1. Dr.Vinay C
2. Dr. Zameer K Both from Department of Pediatric Surgery Narayana Hrudayalaya,Bangalore