Needle Removed From Mans Body After 22 Years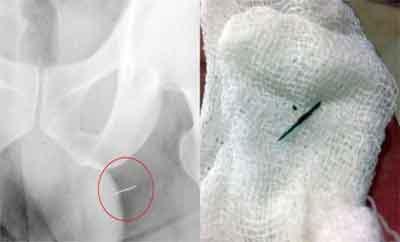 Thiruvananthapuram : A needle which got embedded into the body of a 12-year-old while he was playing, was removed by doctors here 22 years later.
The man, now aged 34, had approached doctors two weeks ago complaining of severe pain and swelling on his back side.
A scan revealed the presence of a needle on his left buttock, doctors at the Medical College Hospital here said.
The needle had penetrated his body accidentally when he was a playing as a child. Though he was rushed to a hospital, doctors could not trace it and the family eventually forgot about it.
However, a few days ago, when Kiran Kumar developed pain and swelling, he was referred to the Medical College Hospital here, where a thorough examination revealed a rusted needle, which was removed yesterday after a two hour-long surgery, they said.
A team of doctors, including orthopedic and anesthesia experts, led the surgery.