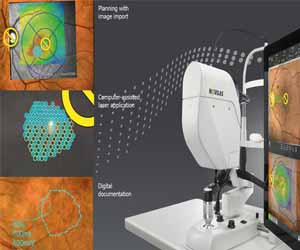 Navigated retinal laser therapy more effective than conventional slit-lamp lasers is the clinical experienc shared at EURETINA Congress in Paris.
Navilas® 577s, is a unique and effective digital treatment platform for Navigated, retinal laser therapy that allows for pan-retinal photocoagulation with uniform spot distribution which is faster and less painful for patients than PRP treatment with conventional slit-lamp lasers. While tissue-friendly subthreshold treatments with navigated laser are easy to control thanks to a unique confluent delivery method and digital documentation.
The Navilas® 577s Laser System is an advanced focal/pan-retinal photocoagulation device with microsecond pulsing mode revolutionizing the treatment of vision-threatening retinal diseases such as Diabetic Macular Edema, Proliferative Diabetic Retinopathy and Retinal Vein Occlusions.
Diabetic macular edema (DME) occurs due to a malfunction of the blood-retinal barrier and death of endothelial cells leading to leakage of fluid and subsequent photoreceptor dysfunction . Focal laser treatment leads to the occlusion of these leaking microaneurysms (MAs), pathologic vessels, or subretinal sites of leakage.
Clinical studies show that the unique retina navigation platform makes treatments precise, effective and comfortable.
Prof. Albert Augustin, Städtisches Klinikum Karlsruhe: "Our experience in everyday clinical practice shows that the treatment with Navilas® is much faster and, based on this, reduces the number of laser sessions so that we can cope better with the steadily growing number of patients. Our patients report less pain than with conventional lasers."
"As therapists, we value, among other things, the targeted spot planning with defined spacing. This increases safety during focal treatments and supports secure closure of foramina even in the far periphery."
Dr. Winfried Teiwes, Managing Director of OD-OS GmbH: "The all-digital Navilas® 577s is the next generation platform after conventional slit-lamp lasers. Navilas® brings the degree of digital control, comfort, and transparency to retinal laser treatment that doctors are already used to from front-of-the-eye treatments. Thanks to Navilas® unique imaging, tracking, and navigation, doctors now can focus on the medical aspects of treating the retina with confidence."