Naloxone by nose for opioid overdose effective but IM route better: JAMA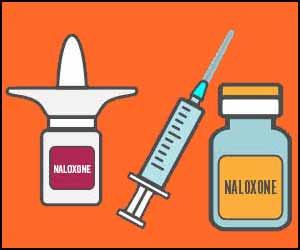 Australia: A recent study has found that Intranasal administration, although effective for the reversal of opioid overdose, is not as effective as the intramuscular or intravenous administration at a comparable dose. The study has appeared in the journal JAMA Network Open.
In the past, unblinded clinical trials suggested that the intranasal route of naloxone hydrochloride was inferior to the widely used intramuscular route for the reversal of opioid overdose.
Paul Dietze, Burnet Institute, Melbourne, Victoria, Australia, and colleagues conducted a randomized clinical trial in Australia to test whether a dose of naloxone administered through the nose was as effective as the same dose delivered by injection to reverse an opioid overdose.
Naloxone hydrochloride is a highly effective opioid antagonist that has been used for more than 40 years in medical practice to reverse the effects of opioid use. Its use is particularly important in cases of opioid overdose, and it is listed as an essential medicine by WHO. It is generally administered through the intramuscular or intravenous route but can also be effective when administered intranasally. However, few randomized trials have examined the efficacy of alternate naloxone administration routes.
The researchers conducted a double-blind, double-dummy randomized clinical trial at the Uniting Medically Supervised Injecting Centre in Sydney, Australia. Clients of the centre were recruited to participate from February 1, 2012, to January 3, 2017. The study included 197 clients at a medically supervised injecting centre in Sydney where eligible patients (18 or older with a history of injecting drug use) are allowed to inject drugs under the supervision of clinically trained staff who watch for signs of overdose.
The primary outcome measure was the need for a rescue dose of intramuscular naloxone hydrochloride (800 μg) 10 minutes after the initial treatment. Secondary outcome measures included time to adequate respiratory rate greater than or equal to 10 breaths per minute and time to Glasgow Coma Scale score greater than or equal to 13.
The investigators found that the intranasally administered naloxone in a supervised injecting facility can reverse opioid overdose but not as efficiently as intramuscularly administered naloxone. The results suggest that further work is needed to establish the optimal dose of nasal naloxone.
For further reference log on to :
DOI:10.1001/jamanetworkopen.2019.14977
Source : JAMA Network Open