Music enhances effect of medicines used for high Blood Pressure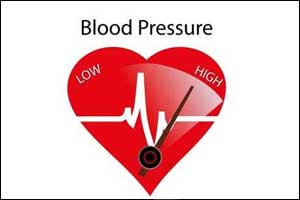 The patients with hypertension can henceforth include a pleasing beneficial activity in the routine treatment of the disease thanks to the discovery that listening to music significantly enhances the effect of medicines used for high Blood Pressure (anti-hypertensive drugs). This shall be of course in addition to Life Style changes. In the study conducted by researchers, it has been found that music intensifies the beneficial effects of medication a short time after it is taken to control high BP, blood pressure. The results of the study have been published in Scientific Reports.
The researchers at UNESP Marília began studying the effects of music on the heart in conditions of stress a few years ago. They found that classical music tends to lower heart rate. They also observed that music improved heart rate and enhanced the effect of anti-hypertensives for about an hour after they were administered.
The researchers followed up this finding by measuring the effect of musical stimulation on heart rate variability in ordinary situations such as treatment for high BP, in which music therapy has been studied as a complementary intervention.
"Previous research showed music therapy having a significant positive effect on BP in hypertensive patients," Valenti said. "But it wasn't clear if music could influence the effects of medication on heart rate variability and on systolic and diastolic blood pressure."
The researchers performed an experiment to measure the effects of the musical auditory stimulus associated with anti-hypertensive medication on heart rate and blood pressure in 37 patients with well-controlled hypertension. The subjects had been undergoing anti-hypertensive treatment for between six months and a year. Measurements were taken on two random days with a gap of 48 hours.
On one day, after taking their usual oral anti-hypertensive medication, patients listened to instrumental music via earphones for 60 minutes at the same volume. As a control, on the other day, they underwent the same research protocol, but the earphones were not turned on.
Heart rate variability was measured at rest and at 20, 40 and 60 minutes after oral medication. Several statistical and mathematical techniques were used to detect differences between heart rates at different times, with high precision and sensitivity.
Analysis of the data showed heart rate diminishing significantly 60 minutes after medication when patients listened to music in the period. Heart rate did not fall as significantly when they did not listen to music.
One of the hypotheses raised by the researchers is that music stimulates the parasympathetic nervous system, increases gastrointestinal activity and accelerates absorption of the anti-hypertensive medication, intensifying its effects on heart rate.
Blood pressure also responded more strongly to medication when they listened to music.
The investigators concluded that the effect of anti-hypertension medication on heart rate was enhanced by listening to music. It is felt that complementary therapies applied to assist hypertensive treatment in addition to lifestyle changes may further decrease dependence on pharmacological intervention.
Source : nature