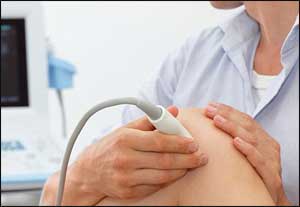 Ultrasonography is emerging as a fundamental method to evaluate musculoskeletal problems. It is best used for imaging superficial structures limited to 1 quadrant of a joint. It has several advantages over other imaging methods: lower cost, ability to perform dynamic examinations, higher spatial resolution of superficial structures, better patient comfort, and essentially no contraindications.
Michael C. Forney, MD along with Patricia B. Delzell, MD , Cleveland Clinic Lerner College of Medicine of Case Western Reserve University, Cleveland, OH  in their review article have done a detailed analysis on Musculoskeletal ultrasonography.
The salient features of the study
Ultrasonography can be used to evaluate small fluid collections in soft tissue; joint effusions and synovitis; soft tissue masses (≤ 5 cm in diameter); tendon, ligament and muscle injuries; and peripheral nerve entrapment and lesions.
Ultrasonography is not appropriate for survey examinations of vague or diffuse symptoms or for evaluating soft-tissue areas more than a few centimetres in diameter or more than a few centimeters deep.
Musculoskeletal ultrasonography requires specially trained sonographers and interpreting physicians.
It uses high-frequency sound waves to generate images. The transducer  emits sound from the many piezoelectric elements at its surface, and the sound waves travel through and react with tissues. Sound reflected by tissues is detected by the transducer and converted to an image. Objects that reflect sound appear hyperechoic (brighter), whereas tissues that reflect little or no sound appear hypoechoic.
Higher-frequency sound waves do not penetrate far into tissues but generate a higher-resolution image; lower-frequency sound waves can penetrate much further but yield a lower-resolution image.
Low attenuation of sound results in artifacts on ultrasonography, making tissues behind the simple fluid appear brighter than neighboring tissues.
Ultrasonography is also subject to artifacts depending on the direction of the transducer, a phenomenon known as anisotropy. Aniso­tropy causes highly ordered tissues such as tendons and ligaments to sometimes appear hypoechoic, which is also the appearance of diseased or disrupted tendons and ligamen
 A high-frequency linear transducer offers more than twice the spatial resolution of a typical 1.5T MRI examination of superficial tissue. It's accuracy is highly dependent on acquiring and interpreting images, whereas the accuracy of MRI is dependent primarily on image interpretation
Musculoskeletal Ultrasonography has several  advantages:
No ionizing radiation exposure.
Increased patient comfort.
High-resolution imaging.
Real-time dynamic examinations
Implanted hardware is less of a problem.
The limitations are:
Its limited field of view, makes it  inappropriate for a survey examination (eg, for ankle pain, knee pain, hip pain).4 Unlike CT and MRI, ultrasonography does not provide a sharp image  and important abnormalities can be missed during evaluation of large areas.
It also cannot evaluate bone or intra-articular structures such as cartilage, bone marrow, labrum, and intra-articular ligaments as evaluated by MRI.
Ultrasonography is time-consuming. To perform a detailed examination of the anterior, posterior, medial, and lateral aspects of the hip, knee, or ankle would require 1.5 to 2 hours of scanning time and an additional 10 to 25 minutes of image checking and interpretation.
Musculoskeletal ultrasonography can be effective for evaluating tendons around joints, ligaments of ankle, elbow, knee and thumb. It  is useful for small areas of concern within a muscle
It  is useful for peripheral nerve investigation but requires a steep learning curve for sonographers and interpreting physicians. It is best suited for directed focal abnormal nerve findings on physical examination.
 The literature was published in Cleveland Clinic Journal Of Medicine
For more reference log on to: CCJM