Muscle-pump activators cuts hospitalization time in kidney transplant patients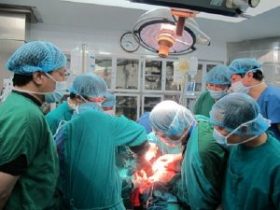 The use of muscle-pump activators (MPAs) instead of the standard compression stockings on the legs of the patient who has undergone kidney transplant improves short-term outcomes and cuts hospitalization time, suggests findings from a recent randomized trial.
Findings of the trial were presented at the American Transplant Congress in Boston on June 3, 2019.
The researchers observed a significant increase in urine output, increase in patient satisfaction, greater blood flow to the kidney and decrease in edema in patients who switched to MPAs from compression stockings.
Alp Sener of Western University in London, Canada, and colleagues randomized 221 patients who had undergone kidney or simultaneous pancreas and kidney transplantation to use the MPA or traditional compression stockings with intermittent pneumatic compression devices for one week.
"Normally, when patients have any operation, including transplant, they wear compression stockings, and boots," said Dr Sener. "Wearing those things can be hot, patients don't like them. They can be irritating, especially for patients who are obese. (With the MPA), they don't wear any of that. In this case, it's a sticker the size of a pen, an inch thick, has a power generator and stimulates the leg equivalent to walking several miles per day."
Also Read: Blood test could give two month warning of kidney transplant rejection
The researchers found that:


The MPA group stayed in the hospital 8.15 days compared to 9.36 days in the control group.


Mid-calf leg circumference and patient weight, both markers of fluid retention, were significantly lower in the MPA group.


Patients with the MPA had more urine output, improved blood flow to the transplanted kidney and a 60% reduction in wound infection rates at 30-days follow-up. They also recorded significantly more steps on a pedometer.


The MPA did not appear to significantly affect measures of renal function, however, including the rate of delayed graft function, dialysis and serum creatinine.


Also Read: First Simultaneous Pancreas-Kidney Transplant performed at Apollo hospitals
According to Dr. Sener, the devices are a low-cost and easy change from the current approach that appears to have a measurable impact.
"Based on our experience in our centre it has become the standard of care. I think that probably the greatest benefit is going to be in deceased donor kidneys, donation after cardiac death and neurologic death," he said.