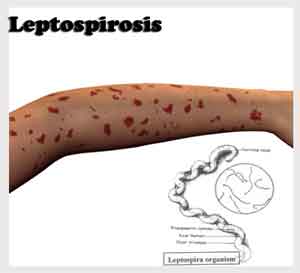 The city of Mumbai has experienced very heavy rains with water logging at some places on 29.08.2017 during which some of the citizens had to walk through flooded waters. Morever, some homes and offices were flooded and they were continuously exposed to flood waters. In addition, all the workers and individuals who were working towards relief and rescue of citizens have been exposed to water logging. These individuals are at a greater risk of developing Leptospirosis and other monsoon related diseases.
The suggested chemoprophylaxis and treatment of Leptospirosis is available in all M.C.G.M. hospitals, Medical colleges and dispensaries. The citizens are requested to visit the nearest M.C.G.M. hospitals and take chemoporophylaxis and treatment as per the doctors advice as per the guidelines attached herewith.
In consultation with State Official and H.O.D of Medical colleges, Mumbai and Infectious Disease Specialists, the Municipal Corporate of Mumbai has released guidelines Policy for post exposure prophylaxis for prevention of Leptospirosis. 
Read Below
Category of Risk
Definition
Suggested dose for
Prophylaxis
LOW-RISK EXPOSURE
Individuals with a single history of wading in flooded or contaminated water without wounds, cuts or open lesions of the skin.
Cap. Doxycycline 200mg single dose within 24 to 72 hours from exposure
·      MODERATE RISK
EXPOSURE
Adult individuals with a single history of wading in flooded or contaminated water and the presence of wounds, cuts or open lesions of the skin or accidental ingestion of contaminated water
Cap. Doxycycline 200 mg once daily for 3 Days to be started immediately within 24 to 72 Hours from exposure
Pregnant Women with Low or Moderate risk exposure
Individuals with a single history of wading in flooded or contaminated water and with or with out presence of

wounds, cuts or open lesions of the skin or accidental ingestion of contaminated water

For low Risk Exposure

Tab. Azithromycin Once Only, within 24-72 hours.

For Medium Exposure — 500 mg Once       a day for 3 days.

Children — Age less
than 8 years
Individuals with a single history of wading in flooded or contaminated water and with or without presence of wounds, cuts or open lesions of the skin or accidental ingestion of contaminated water
Low-risk exposure -Syp Azithromycin 200mg single dose or 250 mg tablet single do. within 24 to 72 hrs For Moderate risk exposure -Syp Azithromycin 200mg or 250 mg tablet once a day for 3 days.
HIGH RISK EXPOSURE
Adult individuals with continuous exposure in flooded waters especially in urban areas infested with domestic , sewer rats and accidental ingestion of contaminated water. ex. Solid waste Management workers and other individuals working in flooded waters /marshy lands during relief and rescue operations

Cap Doxycycline 200 mg once a week for 6 weeks