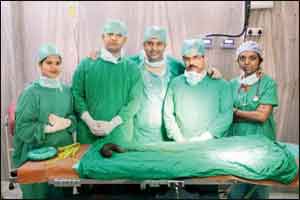 Doctors at Rajwadi hospital in Ghatkopar in Mumbai remove around 750 g of hair from a 20-year-old girl's stomach who used to eat her own hair.
As per reports, she was suffering from a rare condition known as the Rapunzel Syndrome, which has only been documented 88 times in medical literature the world over.
The girl reported to the hospital with complaints of anorexia ,nausea,loss of weight and  swelling  of abdomen. A CT scan was requisitioned and the reporting  doctor inferred  that she was suffering from rare Rapunzel Syndrome.He spotted , a 103 cm long tail of hair in stomach extending till small intestines.On the basis of finding , the doctors  concluded  that the girl must have been  eating her hair for years, a medical condition known as  Trichophagia. It is associated with a psychiatric disorder  trichotillomania in which patient compulsively pulls out hair due to irresistible urge and eats it. The hair primarily are composed of indigestible  proteins which cannot be passed with  stools and therefore get deposited in stomach and intestines.
Dr. Bharat Kamath, an assistant professor in the department of surgery at Rajawadi Hospital, who led the surgical team, said, "It had filled her stomach, due to which the patient was unable to eat. Moreover, a tail of hair trailed into her intestine, which is typical in a case of Rapunzel Syndrome," said Dr. Bharat told MID DAY.
The hairball was 25 cm long and about 10-12 cm across. Due to this, doctors believed that she had been eating her hairs for years. This irresistible eating of hair is called Trichophagia. Hair protein does not get digested, nor can the body pass it in a stool.
Rapunzel Syndrome  is an extremely rare condition wherein a patient suffering from it gets addicted to ingesting  his hair  causing  formation of a a solid mass of indigestible material in the  digestive tract. This formation of a hairball is  medically referred to as a trichobezoar and the syndrome is  named after Rapunzel ,a  long-haired princess from the fairy tale.
Usually the body of this  hairball is located in the stomach, and its tail  in the small bowel and/or in the right colon.If left untrated it may lead to a fatal condition of small or large bowel obstruction.This hair ball has to be e surgically removed as  human hair cannot be digested in the human gastrointestinal tract.In all such cases the patients usually requires psychiatric evaluation and treatment to take care of impulse control disorder, trichotillomania.
For more details click on the link : https://www.ncbi.nlm.nih.gov/pmc/articles/PMC3959449/