Mucolytics in COPD reduces exacerbation, not associated with adverse effects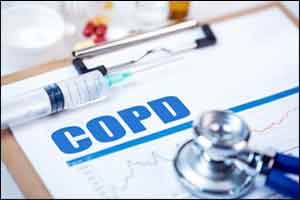 Treatment with mucolytics in patients with chronic bronchitis or chronic obstructive pulmonary disease (COPD) appears to be useful for reducing days of disability, flare-ups, and hospital admissions, according to a recent Cochrane Review. The study further found that mucolytic agents were not associated with an increase in adverse events.




Chronic obstructive pulmonary disease (COPD) and chronic bronchitis are long‐term breathing conditions. They are manifested with symptoms such as excess sputum, cough, and shortness of breath. People with COPD and chronic bronchitis may have flare‐ups (exacerbations) when their symptoms become worse.




Mucolytics are oral medicines that loosen sputum making it easier to cough it up. Improved expectoration of sputum may lead to a reduction in exacerbations of COPD.


Phillippa Poole, Department of Medicine, University of Auckland, Auckland, New Zealand, and colleagues conducted the study to:



determine whether treatment with mucolytics reduces exacerbations and/or days of disability in patients with chronic bronchitis or COPD


assess whether mucolytics lead to an improvement in lung function or quality of life


To determine the frequency of adverse effects associated with the use of mucolytics





For the purpose, the researchers searched the Cochrane Airways Group Specialised Register and reference lists of articles on 12 separate occasions, most recently on 23 April 2019. Randomized studies that compared oral mucolytic therapy versus placebo for at least two months in adults with chronic bronchitis or COPD were included. Studies of people with asthma and cystic fibrosis were excluded.




The review included 38 trials, recruiting a total of 10,377 participants. Studies lasted between two months and three years and investigated a range of mucolytics, including N‐acetylcysteine, carbocysteine, erdosteine, and ambroxol, given at least once daily. Many studies did not clearly describe allocation concealment, and we had concerns about blinding and high levels of attrition in some studies. The primary outcomes were exacerbations and number of days of disability.


They found that:



Results of 28 studies including 6723 participants show that receiving mucolytics may be more likely to be exacerbation‐free during the study period compared to those given placebo.


More recent studies show less benefit of treatment than was reported in earlier studies in this review.


The overall number needed to treat with mucolytics for an average of nine months to keep an additional participant free from exacerbations was eight.


High heterogeneity was noted for this outcome, so results need to be interpreted with caution.


The type or dose of mucolytic did not seem to alter the effect size, nor did the severity of COPD, including exacerbation history.


Longer studies showed smaller effects of mucolytics than were reported in shorter studies.


Mucolytic use was associated with a reduction of 0.43 days of disability per participant per month compared with the use of placebo.


With mucolytics, the number of people with one or more hospitalizations was reduced, but study results were not consistent.


Investigators reported improved quality of life with mucolytics.


Mucolytic treatment was associated with a possible reduction in an adverse event, but the pooled effect includes no difference if a random‐effects model is used.


Several studies that could not be included in the meta‐analysis reported high numbers of adverse events, up to a mean of five events per person during follow‐up.


There was no clear difference between mucolytics and placebo for mortality, but the confidence interval is too wide to confirm that treatment has no effect on mortality.


"Mucolytics appear to be useful for reducing flare‐ups, days of disability, and hospital admissions in people with COPD or chronic bronchitis, and they do not appear to cause more side effects. However, they do not appear to have much impact on quality of life or lung function, and we could not be sure about their impact on death," write the authors.