Guidelines on the vaccinations for multiple sclerosis by American Academy of Neurology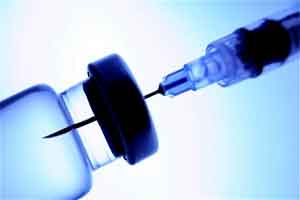 The American Academy of Neurology (AAN) has released practice guidelines on the vaccinations for multiple sclerosis (MS) patients. This is an update to the 2002 AAN guideline on immunization and multiple sclerosis.
According to the guideline, MS patients should follow local vaccine standards and receive the yearly influenza vaccine, unless there are specific contraindications, such as active treatment with immunosuppressive or immunomodulating agents. The guideline is published in the AAN journal Neurology.
Multiple sclerosis (MS) is a chronic, immune-mediated, demyelinating and degenerative disease of the central nervous system that commonly affects the young population aged from 20-40 years of age. People with MS often experience muscle weakness and have trouble with balance and coordination. Although there are many treatment options available for the disease, there is no definitive cure until now due to the highly active relapsing nature of the disease and high risk of disability in some patients.
"We reviewed all of the available evidence and for people with MS, preventing infections through vaccine use is a key part of medical care," said guideline lead author Mauricio F. Farez, the FLENI Institution in Buenos Aires, Argentina, and a member of the American Academy of Neurology. "People with MS should feel safe and comfortable getting their recommended vaccinations."
Key recommendations include:


Clinicians should discuss the evidence regarding immunizations in MS with their patients and explore patients' opinions, preferences, and questions.


Clinicians should recommend that patients with MS follow all local vaccine standards, unless there are specific contraindications and weigh local vaccine-preventable disease risks when counselling patients.


Clinicians should recommend that patients with MS receive influenza vaccination annually.


Clinicians should counsel patients with MS about infection risks associated with specific immunosuppressive/immunomodulating (ISIM) medications and treatment-specific vaccination guidance according to prescribing information (PI) and vaccinate patients with MS as needed at least 4–6 weeks before initiating patients' ISIM therapy.


Clinicians must screen for infections according to PI before initiating ISIM medications (Level A) and should treat patients testing positive for latent infections.


In high-risk populations, clinicians must screen for latent infections before starting ISIM therapy even when not specifically mentioned in PI (Level A) and should consult specialists regarding treating patients who screen positive for latent infection.


Clinicians should recommend against using live-attenuated vaccines in people with MS receiving ISIM therapies. Clinicians should delay vaccinating people with MS who are experiencing a relapse.


"After reviewing all the available evidence, we found that there is not enough information to say whether or not vaccinations trigger or worsen MS flares," said Farez. "Still, experts in MS urge their patients to hold off on scheduling their vaccinations if they are having an MS flare simply to avoid the potential for any complications."
The systematic review "found few high-quality studies to inform recommendations," the authors said. "As more [immunosuppressive or immunomodulating] agents are developed to manage chronic diseases such as MS, long-term prospective cohort studies are required to evaluate both the safety and effectiveness of immunizations in MS."
To read the guideline in detail log on to
https://doi.org/10.1212/WNL.0000000000008157