MRI faster and more effective modality than ultrasound for appendicitis evaluation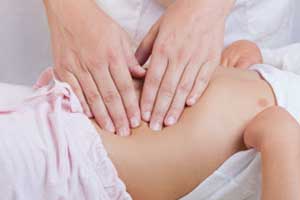 Houston, TX: Magnetic resonance imaging (MRI) is a faster and less costly alternative to ultrasound (US) for the evaluation of adolescent females with suspected appendicitis, according to a recent study published in the journal Academic Radiology.
Magnetic Resonance Imaging (MRI) is an imaging modality that is increasingly used for the diagnosis of gastrointestinal (GI) disease. Magnetic Resonance Imaging, MRI uses magnetic fields to create images of the body and is described as safe imaging technology, with no exposure to radiation. Safety guidelines specify subgroups of patients that may be harmed during an MRI scan, for example, patients with metallic implants or foreign bodies. People with claustrophobia and most young children or babies may also not tolerate the noise and closed space within a Magnetic Resonance Imaging scanner.
Appendicitis is a medical emergency characterized by painful swelling and infection of the appendix. The appendix can burst or rupture if not treated.
Kelly N. Hagedorn, Department of Pediatric Radiology, Texas Children's Hospital, Houston, and colleagues conducted the study to compare the cost of ultrasound (US) versus magnetic resonance imaging (MRI) using time-driven activity-based costing in adolescent female patients with suspected appendicitis.
The researchers used electronic medical record data from 231 abdominal or pelvic ultrasound exams and 52 MRI exams performed in female adolescents for suspected appendicitis. The hospital's accounting data was utilized to establish cost rates for personnel, equipment, facilities, and supplies for each type of exam, and calculated total costs for each exam "pathway."
Ultrasound requires two exams: an abdominal exam to evaluate for appendicitis and a pelvic exam to evaluate for adnexal pathology; performing both exams can take time since the abdominal exam requires an empty bladder, and the pelvic exam requires a full bladder.
Also Read: MRI best modality for diagnosing acute appendicitis in kids, finds study
Upon analysis, they found that:


Mean total US pathway time was 91 minutes longer than for MRI (US = 166 minutes; MRI = 75 minutes).


Patients undergoing US exams followed one of six pathways depending on exam order (abdomen versus pelvis performed first) and whether additional time was needed for bladder filling.


Total MRI pathway cost was $209.97 compared to a mean US cost of $258.33.


Also Read: Antibiotics therapy really works in uncomplicated appendicitis : JAMA
"The results suggest that MRI could be a good option for working up patients with suspected appendicitis, especially since its symptoms can be difficult to distinguish from other conditions, particularly in adolescent female patients," wrote the authors.
"These patients present a diagnostic challenge for clinicians as the symptoms of appendicitis can overlap those of adnexal pathologies such as ovarian torsion or hemorrhagic ovarian cysts," the researchers wrote. "In pediatric patients, ultrasound is often the initial imaging modality of choice for the workup of both appendicitis and adnexal pathology given its high diagnostic accuracy and lack of ionizing radiation." But the workup involves two separate ultrasound exams and, therefore, a good deal of time, the team noted.
That's why using MRI could be a good alternative, according to the group.
The group acknowledged that MRI costs will vary by institution but concluded that the modality appears to be viable -- and perhaps even preferable -- an alternative to ultrasound for diagnosing appendicitis in adolescent female patients presenting with abdominal pain.
"Our results suggest that MRI may be an efficient and less costly exam than previously perceived," the authors wrote.
For detailed study log on to
https://doi.org/10.1016/j.acra.2019.03.023
Source : With inputs from�Academic Radiology