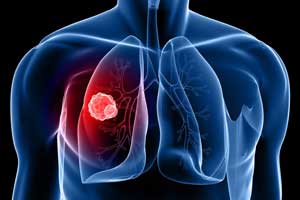 Lung cancer screening with MRI using the Lung Imaging Reporting and Data System (Lung-RADS) is as good as low-dose computed tomography (LDCT), according to a new study published in the journal European Radiology.
Daniel Thomas, Department of Radiology, University of Bonn, Bonn, Germany, and colleagues conducted the study to evaluate MRI for lung cancer screening by comparing LDCT and MRI-derived Lung-RADS categories in the first two screening rounds. 
For the study, the researchers examined 224 participants in a lung cancer screening study with low-dose CT (LDCT) and MRI. Acquired MRI sequences were T2, balanced, T1 and DWI. MRI was prospectively analyzed regarding nodules. Minimum nodule size was 4 mm. Nodules were assigned a Lung-RADS score based on appearance and size at baseline and after 3, 6 and 12 months. MRI findings were correlated with LDCT.
Read Also: New Blood test for early detection of lung cancer
Key Findings:
MRI accurately detected 62 of 89 solid nodules <6 mm, 40 of 41 solid nodules ≥6 mm, and 8 of 11 subsolid nodules <20 mm.
A significant correlation between MRI and LDCT for nodule size on MRI and LDCT and Lung-RADS scoring was observed.
Lung-RADS scores ≥3 were not missed by MRI.
MRI underestimated Lung-RADS score in 20 cases among patients with a score of 1, but only 3 of those patients underwent an unnecessary follow-up screening.
Early recall rate decreased significantly from 13.8% at baseline to 1.9% in the second screening.
Biopsy rates also decreased from 3.6% in the first screening to 0.5% in the second.
"Lung-RADS might be applied for lung cancer screening with MRI since findings correlated with LDCT. Relevant findings with a Lung-RADS score of 3 and higher were never missed or underestimated by MRI," concluded the authors.
Key Takeaways from the Study:
MRI performed comparably to low-dose CT in a lung cancer-screening programme.
Lung-RADS might be applied for lung cancer screening with MRI.
Lung-RADS findings score of 3 and higher were never missed by MRI.
For further information log on to https://doi.org/10.1007/s00330-018-5607-8