MR spectroscopy aided test may replace CT in diagnosis of early Lung Cancer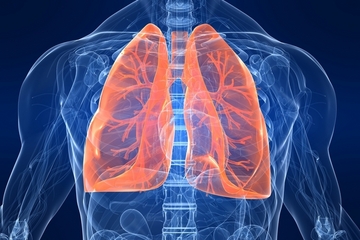 U.S scientists have developed Magnetic Resonance spectroscopy aided cheap metabolic test for early lung cancer detection which may replace Computed Tomography (CT). The study appeared in scientific reports and journal of Nature springer.
Lung cancer is one of the most common cancers and the leading cause of death worldwide and therefore, early detection is lung cancer is important. At present, advanced radiological examinations, especially low-dose spiral CT (LDCT), can detect small LuCa lesions. However, high cost and possible radiation hazard raised concerns about this technique.
The present study aimed at evaluating Lung cancer biomarkers LuCa, particularly low-grade LuCa and identify potential LuCa biomarkers. The authors investigated paired tissue and serum samples obtained from the same patients. These analyses were carried out with the special technique of high-resolution magic angle spinning magnetic resonance spectroscopy (HRMAS MRS), which we developed for metabolomic analysis of intact biological tissue and complex fluids.
The authors investigated human lung cancer metabolomics from 93 paired tissue-serum samples with magnetic resonance spectroscopy and identified tissue and serum metabolomic markers that can differentiate cancer types and stages.
An analysis of the data uncovered metabolic profiles -- consisting of varying levels of amino acids and other organic molecules -- that had statistically significant associations with the presence of lung cancer.
The researchers also identified profiles that were particular to distinct types of lung cancer (e.g., small cell carcinoma and adenocarcinoma) requiring different treatments, as well as to varying stages of the disease.
Interestingly, the tests were able to distinguish between samples that came from patients who had short-term survival (3.4 years or fewer) after surgery and those who lived longer than 3.4 years. With further validation, the ability to differentiate between these two groups could help clinicians pinpoint individuals at especially high risk of lung cancer mortality in the earliest phases of case management, the researchers noted.
They identified serum metabolomic profiles that can predict patient overall survival for all cases, and more importantly, for Stage, I cases alone, a prediction which is significant for treatment strategies but currently cannot be achieved by any clinical method.
For further reference, please click on the link