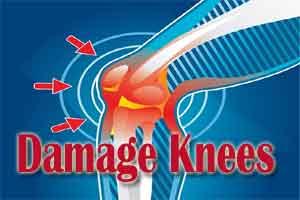 A new study reiterates that most meniscal tears may just require physical therapy and not surgery.
No significant difference in outcomes was found between meniscectomy and a sham procedure among patients with knee pain and meniscal tears without osteoarthritis suggesting physical therapy(PT) to remain the initial treatment for such patients, reports a study published in the journal JAMA Network.
Meniscal tears may occur as part of a degenerative process of the knee joint and occur in up to 60% of persons older than 50 years of age without knee pain Arthroscopic partial meniscectomy (APM) is among the most frequently performed procedures in orthopedic surgery.
Victor A and associates conducted a randomized clinical trial assessing whether PT is noninferior to arthroscopic partial meniscectomy (APM)  for improving patient-reported knee function in patients with meniscal tears.
Read Also: Exercise as effective as surgery for middle aged patients with knee damage
The trial included 321 patients aged between 45-60 years.The patients were randomly assigned to APM (n = 159) or a predefined PT protocol (n = 162). The primary outcome was changed in patient-reported knee function.
Key study findings:
In the PT group, 47 participants (29%) had APM during the 24-month follow-up period, and 8 participants randomized to APM (5%) did not have APM.
Over a 24-month follow-up period, knee function improved in the APM group by 26.2 points (from 44.8 to 71.5) and in the PT group by 20.4 points (from 46.5 to 67.7).
Adverse events occurred in 18 participants in the APM group and 12 in the PT group.
Repeat surgery (3 in the APM group and 1 in the PT group) and additional outpatient visits for knee pain (6 in the APM group and 2 in the PT group) were the most frequent adverse events.
Although noninferiority was demonstrated for the overall between-group difference in patient-reported knee function, and for the 3- and 6-month follow-up time points, results did not demonstrate noninferiority at the 12- and 24-month time points.
The authors suggest that Longer follow-up will provide more details on the effect of time on the between-group differences.
The study concluded that, in patients older than 45 years with knee pain and nonobstructive meniscal tears, PT was noninferior to APM for knee function over a 24-month follow-up period. The results of this trial support the recommendations from the current guidelines that PT may be considered an appropriate alternative to APM as first-line therapy for patients with meniscal tears.
For reference log on to 10.1001/jama.2018.13308