Most COPD cases linked to childhood risk factors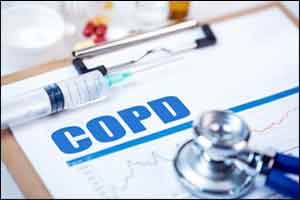 Lifetime lung function is related to the quality of life and longevity and individuals follow different lung function trajectories during the lifespan. Dr.Dinh S Bui and colleagues have found in two separate studies that Risk factors for chronic obstructive pulmonary disease (COPD) are evident in childhood and present opportunities to minimize one's risk.Almost three-quarters of chronic obstructive pulmonary disease (COPD) cases have their origins in poor lung function pathways beginning in childhood. These pathways are associated with exposures in childhood and amplified by factors in adulthood.The two studies have been published in Journal in the Lancet Respiratory Medicine.
In the first, researchers examined forced expiratory volume (FEV1) scores from ages 7 to 53 years in over 2400 people. They identified six trajectories of lung function, of which three — persistently low; early below average with accelerated decline; and below average — predicted increased COPD risk at age 53. These three trajectories accounted for 75% of the COPD burden. Childhood factors associated with these trajectories included asthma, allergic rhinitis, bronchitis, pneumonia, and maternal smoking. The risk was exacerbated in those who smoked or had asthma as adults.
In the second study, researchers showed that individuals with low FEV1 scores from childhood into early adulthood had persistent wheezing and asthma. Childhood factors linked to persistently low scores included recurrent wheeze, early allergic sensitization, and tobacco smoke exposure. The researchers call for "aggressive strategies to reduce environmental tobacco smoke exposure and novel strategies to prevent early-life sensitization and exacerbations of early-childhood wheezing."
Clinicians and patients with asthma should be made aware of the potential long-term implications of non-optimal asthma control for lung function trajectory throughout life, and the role and benefit of optimal asthma control on improving lung function should be investigated in future intervention trials.
For more details click on the link :
DOI:
https://doi.org/10.1016/S2213-2600(18)30100-0
Source : with inputs NEJM