................................ Advertisement ................................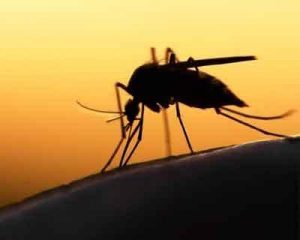 The mosquito borne Rift Valley fever virus has been linked to miscarriage in humans. A study of 130 pregnant Sudanese women with fever showed that the risk of miscarriage was seven times greater if the woman was infected with Rift Valley fever virus. The study, which was recently published in the journal Lancet Global Health, was a collaboration between researchers at Umeå University, the Swedish Defense Research Agency (FOI) and clinicians in Sudan.
"In parts of Africa where there are Rift valley fever outbreaks, miscarriages in humans have until now never been linked to this particular viral infection," says Magnus Evander, professor of Virology at Umeå University and co-author of the study.
"With these results, we can add miscarriage to the list of known complications from Rift Valley fever. This discovery is important for maternal health and for our efforts to develop preventive measures to minimize miscarriages, which are a big health problem for women in the affected areas of Africa."
................................ Advertisement ................................
Rift Valley fever is caused by the Rift Valley fever virus, which is mostly transmitted by mosquitoes and affects many different animal species including humans. The virus, which exists in Africa and on the Arabian Peninsula, often cause deadly infections in cows, sheep and goats, and usually lead to miscarriages in pregnant animals. The virus regular cause large outbreaks with hundreds of thousands of infected animals and people. There is currently an outbreak in Niger and recently a Chinese man, who had visited the African Continent, got sick with Rift Valley fever upon returning to China.
Rift Valley fever usually produces mild, influenza like symptoms in humans. But in 8 percent of cases, infected people develop serious symptoms such as liver damage, serious eye infection, internal and external bleeding, meningitis and death.
................................ Advertisement ................................
The study, which was recently published in Lancet Global Health, is based on a study of 130 pregnant women with fever. In Sudan, outbreak of Rift Valley fever is a large and recurring health problem. Of the 130 patients, 27 had a miscarriage and four had premature births. The women infected with Rift Valley fever virus had a seven times greater risk of miscarriage.
"Because Rift Valley fever is caused by a mosquito borne virus, there is a potential risk of global spread, which has been the case with the zika virus. The fact that Rift Valley fever could lead to miscarriage is very worrying since it could potentially spread to new continents, which would have very serious consequences," adds Magnus Evander.
You can read the full Guideline by clicking on the following link :
Maria Baudin, Ammar M Jumaa, Huda J E Jomma, Mubarak S Karsany, Göran Bucht, Jonas Näslund, Clas Ahlm, Magnus Evander, Nahla Mohamed. Association of Rift Valley fever virus infection with miscarriage in Sudanese women: a cross-sectional study. The Lancet Global Health, 2016; DOI: 10.1016/S2214-109X(16)30176-0
Supriya Kashyap Joined Medical Dialogue as Reporter in 2015 . she covers all the medical specialty news in different medical categories. She also covers the Medical guidelines, Medical Journals, rare medical surgeries as well as all the updates in medical filed. She is a graduate from Delhi University. She can be contacted at supriya.kashyap@medicaldialogues.in Contact no. 011-43720751
................................ Advertisement ................................