More than 50% of outpatient antibiotic prescriptions inappropriate: BMJ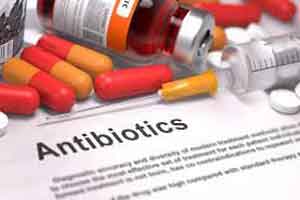 USA: According to a new study, More than 50% of outpatient antibiotic prescriptions are inappropriate.The study has found that only 13 per cent of outpatient antibiotic prescriptions were appropriate, with 36 per cent considered potentially appropriate.
Inappropriate antibiotic prescribing to outpatients promotes the development of antibiotic resistance, which is one of the greatest threats to public health worldwide that increases health-care costs and exposes patients to unnecessary side effects.
The study, published in the journal The British Journal of Medicine (BMJ), also found that 23 per cent of outpatient antibiotic prescriptions were inappropriate and 28 per cent were not associated with any diagnosis code at all -- suggesting that the rate of inappropriate prescriptions may, in fact, be even higher.
Jeffrey A Linder, professor of medicine, Northwestern University Feinberg School of Medicine, Chicago, IL, USA, and colleagues conducted this cross-sectional study to assess the appropriateness of outpatient antibiotic prescribing for privately insured children and non-elderly adults in the US using a comprehensive classification scheme of diagnosis codes in ICD-10-CM (international classification of diseases-clinical modification, 10th revision), which replaced ICD-9-CM in the US on 1 October 2015.
The study, conducted with the University of Michigan and Harvard University's Brigham and Women's Hospital, provides the most extensive assessment of outpatient antibiotic prescriptions to date and demonstrates the scale of inappropriate antibiotic prescribing in the U.S.
The study used a novel classification scheme and is uniquely comprehensive. For the first time, the scientists evaluated all 91,738 diagnosis codes inICD-10 (the system used in the U.S. to code diagnoses) and categorized each for antibiotic appropriateness. They also examined all outpatient antibiotic prescriptions among a cohort of 19.2 million patients, irrespective of the reason or site of care.
"Most prior studies have looked at antibiotic prescribing for a particular condition or in a particular location -- for example, antibiotic prescribing for acute bronchitis in the emergency department," said Dr Linder. "This allowed us to take a broader look at the appropriateness of antibiotic prescribing than has been done before."
Despite initiatives to curb the problem, a significant proportion of prescribed antibiotics are unnecessary. However, prior studies are limited in scope and largely out of date; in particular, most relied on diagnosis codes in ICD-9, although the system was replaced with ICD-10 in 2015.
In the current study, the scientists developed a new, comprehensive ICD-10-based classification scheme that determined whether each of the more than 90,000 diagnosis codes "always," "sometimes" or "never" justified treatment with antibiotics.
"No one had gone through all available codes before," Linder said.
The team then used the new scheme to evaluate 15.5 million outpatient antibiotic prescriptions filled in 2016 by a large cohort of privately insured U.S. children and non-elderly adults. The scientists assigned each prescription fill to one of four categories: either "appropriate," "potentially appropriate," "inappropriate" or "not associated with a recent diagnosis code."
Also Read: Don't over prescribe antibiotics for COPD , directs NICE
Key Findings:


Among 15 455 834 outpatient antibiotic prescription fills by the cohort, the most common antibiotics were azithromycin (2 931 242, 19.0%), amoxicillin (2 818 939, 18.2%), and amoxicillin-clavulanate (1 784 921, 11.6%).


Among these 15 455 834 fills, 1 973 873 (12.8%) were appropriate, 5 487 003 (35.5%) were potentially appropriate, 3 592 183 (23.2%) were inappropriate, and 4 402 775 (28.5%) were not associated with a recent diagnosis code.


Among the 3 592 183 inappropriate fills, 2 541 125 (70.7%) were written in office-based settings, 222 804 (6.2%) in urgent care centers, and 168 396 (4.7%) in emergency departments.


In 2016, 2 697 918 (14.1%) of the 19 203 264 enrollees filled at least one inappropriate antibiotic prescription, including 490 475 out of 4 631 320 children (10.6%) and 2 207 173 out of 14 571 944 adults (15.2%).


Also Read: Five antibiotic strategies to be avoided in pediatric patients : AAP
They found that just 13 per cent of prescriptions were appropriate, 36 per cent were potentially appropriate and 23 per cent were inappropriate. They also found that 28 per cent were not associated with any diagnosis code at all -- suggesting that the rate of inappropriate prescriptions may, in fact, be even higher.
"This means that our prior methods of looking at antibiotic prescribing based on location or specific diagnosis code is missing a huge proportion of antibiotics," Linder said.
"The classification scheme could facilitate future efforts to comprehensively measure outpatient antibiotic appropriateness in the US, and it could be adapted for use in other countries that use ICD-10 codes," concluded the authors.
For further reference follow the link:
https://doi.org/10.1136/bmj.k5092
Source : With inputs from BMJ